---
Says Prof. used vehicles on the advice of the Commission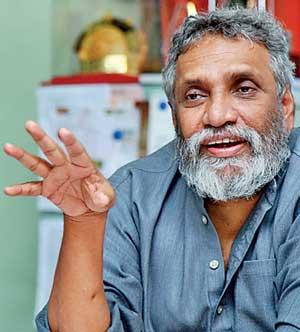 By Susitha Fernando
Election Commission (EC) Chairman Mahinda Deshapriya told the Daily Mirror that EC member Prof. Rathnajeewan Hoole does not have to undergo quarantine and that he could come to the election office from Jaffna at any time he wants.
Nothing happened relating to Prof. Hoole and his daughter when they came to the Election Commission office
Mr. Deshapriya denied earlier media reports that Prof. Hoole and his daughter were asked to leave the commission premises on Tuesday, (19) after the staff protested against their presence claiming that Prof. Hoole's daughter who had returned from Britain had not undergone quarantine.

The Chairman said that nothing happened relating to Prof. Hoole and his daughter when they came to the Election Commission office on Tuesday. "There was a discussion whether the daughter had undergone quarantine or not but Prof. showed the certificate she had received from the quarantine centre. The PCR test too has cleared her but he (Prof. Hoole) did not know that a further 14-day quarantine process was required," Mr. Deshapriya said. Meanwhile responding to certain media reports that Prof. Hoole has misused commission's vehicle Chairman Deshapriya stated that Prof. Hoole had used vehicles of Jaffna or Kilinochchi election offices with permission and advise from the Commission. "The commission has instructed Prof. Hoole to use commission vehicles to travel from Jaffna to Colombo," Mr. Deshapriya stated.
Describing what happened on Tuesday Prof. Hoole said he went to the Election Commission with his daughter who returned from Cambridge on May 4 and underwent quarantine at a hotel in Negombo paying around Rs. 175,000. "She was with a certificate signed by Army Commander Shavendra Silva and Dr. Anil Jasinghe and they never told her to undergo self-quarantine," Prof Hoole said.

He said that when he went out for lunch he was informed by the Chairman's personal assistant that the scheduled meeting that day was cancelled and he and his driver had to be quarantined for two weeks. "However later the chairman said this was not necessary" Prof. said.
Prof. Hoole said he immediately returned to Jaffna with his daughter and on Wednesday morning Jaffna HQI visited his house and demanded that he, his daughter and the driver undergo quarantine. However Jaffna MOH intervened and informed the police that it was only his daughter had to undergo self-quarantine at home. But police had taken Prof. Hoole's driver. It was revealed that EC Chairman Deshapriya had later reprimanded the Jaffna DIG on this incident and ordered that the driver be sent back to Prof. Hoole's residence.
Nothing happened relating to Prof. Hoole and his daughter when they came to the Election Commission