---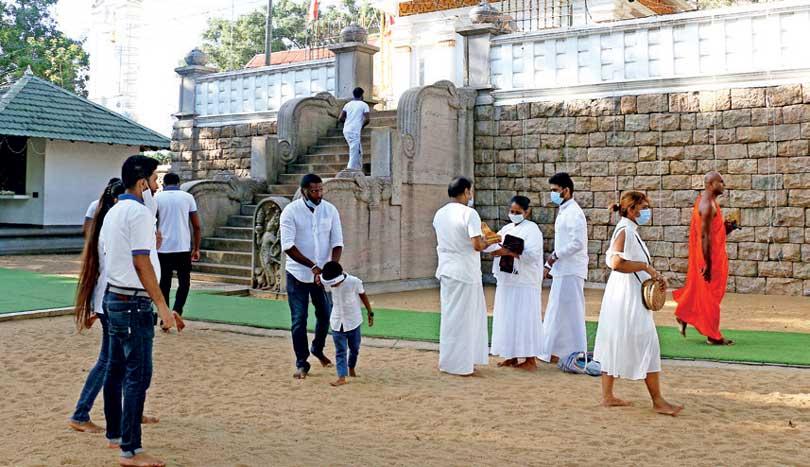 The offering of 20,000 lotus flowers to the Jaya Siri Maha Bodhi took place with the participation of North Central Province Senior DIG Nandana Munasinghe and DIG Kithsiri Jayalath
By Atula Bandara, Kusal Chamath and K. D. Devapriya
Places of Buddhist worship countrywide were deserted on Poson Full Moon Poya Day yesterday in view of the coronavirus threat and the curfew.
Anuradhapura Jaya Siri Maha Bodhi and the Mahameuna Uyana where thousands of devotees arrive from all parts of the country to attend religious activities especially on Full Moon Poya days were deserted yesterday. Resident monks performed the usual Poojas and other rituals with the participation of security personnel and a few devotees on the instructions of Chief Incumbent of the Anuradhapura Atamastana Ven. Pallegama Siriniwasa Thera.

The offering of 20,000 lotus flowers to the Jaya Siri Maha Bodhi took place with the participation of North Central Province Senior DIG Nandana Munasinghe and DIG Kithsiri Jayalath.

Defence Secretary Maj. Gen. Kamal Gunaratne and Army Commander Lt.Gen. Shavendra Silva attended religious activities at Ruwanweliseya from morning organised under the guidance of Ven. Pallegama Hemarathana Thera. Diyawadana Nilame Neelanga Dela said the Poojas and customary rituals at the Sri Dalada Maligawa were performed as usual, but without the participation of devotees. The sacred area of the Sri Dalada Maligawa was deserted. Flower sellers yesterday offered 5,000 flowers to the Sacred Tooth Relic.

The main places of Buddhist worship such as the Kataragama Kiri Vehera, Mahiyangana Viharaya, Muthiyangana Viharaya, Aluthgama Kande Vihara and Kalutara Bodhi where thousands of devotees usually gather for religious observance were also deserted yesterday.

However, the Poojas at the Kataragama Maha Devala were performed by the devala trustees without the participation of any devotee. Only 20 devotees observed Sil at the Kataragama sacred city.