---
a soldier was killed and two others injured in a fatal accident on the Nugegoda flyover
Section 294 fourth limb of the Penal Code has clear provision to file murder charges against such individuals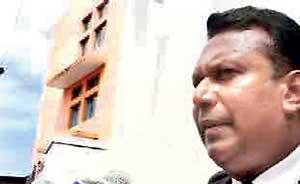 By Darshana Sanjeewa Balasuriya
Cases would be filed against the drivers who cause fatal accidents due to negligence and reckless driving under murder charges in future, the police said yesterday.
Director Police Legal Division SSP Ruwan Gunasekara said they would file murder charges after consulting the Attorney General.

He said section 294 of the Penal Code has clear provision to file murder charges against such individuals.

SSP Gunasekara made these remarks after appearing in the Nugegoda Magistrate's Court over the case in which a soldier was killed and two others were injured in a fatal accident on the Nugegoda flyover. The accident occurred when a private bus arriving on the opposite lane crashed with an army cab when the bus tried to overtake another bus on the flyover on July 20. SSP Gunasekara said the Acting IGP ordered the Police to conduct an investigation into the accident and take maximum action against the driver.

According to section 294 fourth limb of the Penal Code, "If the person committing the act knows that it is so imminently dangerous that it must in all probability cause death, or such bodily injury as is likely to cause death, and commits such act without any excuse for incurring the risk of causing death or such injury as aforesaid".
The accident occurred when a private bus crashed with an army cab when the bus tried to overtake another bus on the flyover