---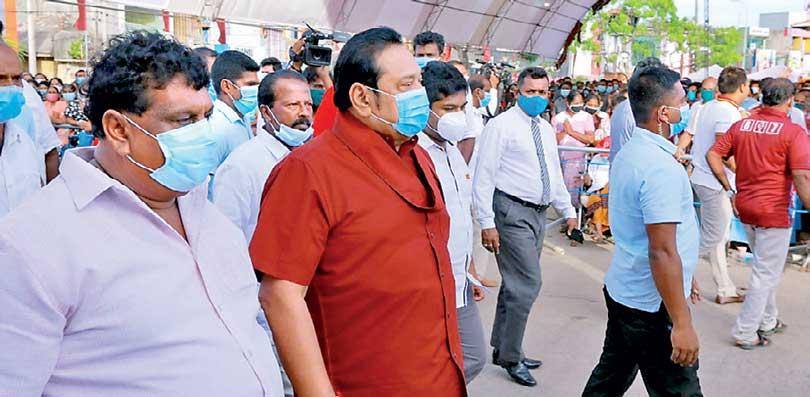 President Gotabaya Rajapaksa says will build a people-centric economy fully owned by the people
By Lahiru Pothmulla
A new government formed by the Sri Lanka Podujana Peramuna (SLPP) following the General Election will make the people from Point Pedro to Point Dondra, stakeholders of the development in the country, SLPP Leader Prime Minister Mahinda Rajapaksa said yesterday .
Speaking at the final rally of the SLPP, in a series of rallies held in the run-up to the general election, at Tangalle last evening, the prime minister requested the people to vote in support of the leadership that has already shown the ability to work and is keen to continue working for the country.

"Today, the need has arisen for a parliament that can support the president who has dedicated himself to develop the country. To make all these possible and to carry forward the national policy framework, Vistas of Prosperity and Splendour, I request the people to vote for the SLPP to elect a set of parliamentarians that has the necessary skills and the ability and thereby making way for a skilled cabinet," he said.

In the same manner, President Gotabaya Rajapaksa should be commended for making prompt and successful decisions to manage the COVID-19 situation by deploying the health officials and the military personnel, the premier said the people's assistance extended towards the COVID-19 prevention programme should also be commended.

"I request the people to go to the polling station early in the morning and cast the vote to the 'Pohottuwa' and give preference to three candidates," he said. He assured the provision of drinking water to all after a new government was established, in the same manner the electricity supply was provided to them during former Rajapaksa government. "The SLPP will win the parliamentary election with a vast majority of votes," he said.
The public rally which was organised by candidates Namal Rajapaksa and D.V. Chanaka was also attended by President Gotabaya Rajapaksa who enquired from the crowd about their needs.

During his visit to many public meetings in support of SLPP candidates in Hambantota, President Gotabaya Rajapaksa yesterday said that he would build a people-centric economy that will be fully owned by the people of this country.

Speaking at a public gathering in Hambantota, the president further said that the objective of the government is to create a national economy for the future that will strengthen the local entrepreneurs instead of vending national resources and financial assets of the country to foreigners.

President Rajapaksa emphasized that it was important to comprehend the bitter reality of the economy following the COVID -19 pandemic and strengthening the people instead of making false statements about the cost of living.

President participated in a public gatherings organized by the SLPP candidates Chamal Rajapaksa, Kapila Dissanayake, Lionel Subasinghe, Namal Rajapaksa, D.V. Chanaka, Harsha Udayakumara, Upul Sanjeewa Galappaththi, Ajith Rajapaksa, Mahinda Amaraweera and Jayantha Wanniarachchi.