---
because in most cases even the next of kin are not living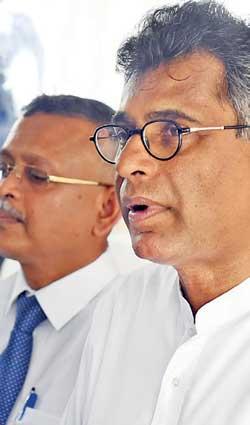 By Yohan Perera
Investigating the deaths during the conflict will be meaningless especially in a situation where the deceased's siblings are inaccessible, Megapolis and Western Development Minister Patali Champika Ranawaka said recently.
He said this at the opening of the multipurpose building and the weekly fair at Bulathsinhala on Monday. Citing an example he said there was no point in determining how the LTTE leader died because even his family members are not among the living.

"Prime Minister Ranil Wickremesinghe was criticized by some of the politicians in the North for saying recently that it is better to forgive and forget. However, what we must do is not to forget the past. If we fail to do it the national issue would never be resolved," the minister said and added that what was needed was to coexist and looking to the future no matter what had taken place in the past.

He said the LTTE was not the only group which took up arms because PLOTE, TELO and even the JVP took up arms. "TELO, PLOTE and even Desha Premi Janatha Viyaparaya of the JVP took up arms especially against the IPKF," the minister said.