---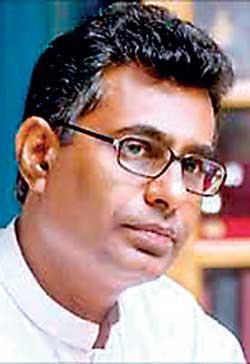 By Yohan Perera
The new 300MW coal power plant in Norochcholai is a national crime because of the many issues involved in it, one time Power and Energy Minister Patali Champika Ranawaka alleged yesterday.
Mr. Ranawaka told a press conference yesterday that the project is a crime because of the environmental impact and other technical issues.

"Cabinet had decided to award the contract of constructing this new power plant to the same company which set up Lakvijaya Plant in Norochcholai.

The earlier power plant in Norochcholai had fallen short of producing the contracted amount of power by 200MW. One wonders as to how the contracted company could construct a power plant of 300MW when it had failed to deliver the promised capacity of the earlier power plant," Mr. Ranawaka alleged.

"The existing transmission lines do not have the capacity to transmit further power. The contract has been given to the company which constructed the earlier power plant without calling for tenders. Another issue is that no environmental assessment study has been done on the new project," he added.