---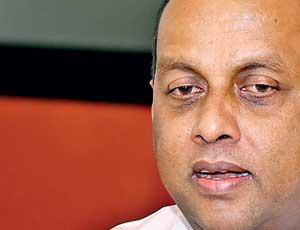 By Sandun A. Jayasekera
Power, Energy and Transport Minister Mahinda Amaraweera yesterday pledged that the government of President Gotabaya Rajapaksa would reject the Millennium Challenge Corporation (MCC) compact 'in toto' and would never sign it as long as this government remains in power.
Minister Amaraweera told Daily Mirror after he met the US envoy in Colombo, Ms. Alaina B. Teplitz, that both President Gotabaya Rajapaksa and Prime Minister Mahinda Rajapaksa had given a firm pledge that Sri Lanka would not sign the MCC agreement at any time, under the current government.

"The MCC agreement was signed by the yahapalana government during the presidential election last year. Now they are putting the blame on us on an alleged attempt to sign the MCC by the government which would never happen," Minister Amaraweera said.

He said the committee led by Prof. Lalithasiri Gunaruwan to review the MCC agreement, has clearly pointed out that the MCC agreement does more harm than being beneficial, and contravenes the Constitution and national integrity and independence, and as such it is not possible to sign any agreement between the two countries.
Minister Anmaraweera said he did not discuss the MCC with Ms. Teplitz during their meeting and added that the US ambassador pledged US technical cooperation to develop the transport, power and energy sectors of Sri Lanka.

*** The MCC agreement was signed by the yahapalana government during the presidential election last year. Now they are putting the blame on us

*** The MCC agreement does more harm than being beneficial, and contravenes the Constitution and national integrity and independence