---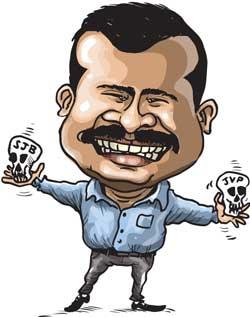 By JAMILA HUSAIN
Former Minister and LTTE Eastern Commander Vinayagamoorthy Muralitharan alias Karuna Amman has slammed SJB Leader Sajith Premadasa, JVP Leader Anura Kumara Dissanayake and the former UNP led by Ranasinghe Premadasa, saying they caused more destruction to the country during the LTTE period by strengthening the Tigers and the JVP insurgency.
My statement has been taken out of context
I am dedicated to work for the Eastern people
Will contest from Ampara and win my seat
Says JVP killed 80,000 people during insurgency
Karuna told the Daily Mirror that while he, during his time in the LTTE was more dangerous than the COVID-19, his remarks on killing thousands of army soldiers during the war was taken out of context.

"My statement has been taken out of context. What I meant is that during the war, both the army and the LTTE suffered heavy casualties. However, under Mahinda Rajapaksa's leadership peace was brought in. So I was referring to the lives lost," Muralitharan said.

Soon after his recent alleged statement that he killed 2,000 to 3,000 Sri Lankan soldiers in one night at Elephant Pass when he was in the LTTE and thousands were killed in Kilinochchi as well, Karuna said Sajith Premadasa and Anura Kumara Dissanayake were attempting to take political advantage of it.

"Sajith very well knows that his father had given 5,000 rifles and 1 crore rounds when LTTE was very weak. The UNP people only supplied the weapons rounds," he alleged.

"At the same time, Anura Kumara Dissanayake cannot blame me because they killed more than 80,000 people. So they cannot talk like that against me," he added. Further, Karuna said that while Prime Minister Mahinda Rajapaksa had offered him a national list seat in the new Parliament, he had refused as he wished to enter parliament through a people's mandate."I told the Prime Minister that I want to contest from Ampara as I can win the election. I want to represent the Ampara district as there is not much development there and people lack job opportunities. So I want to develop that district.

At the same time, a lot of land issues also exist between the Tamil and Muslim communities as so far many Muslim politicians have crushed the Tamil people there. I want to change all that and look after both these communities," he said.
I told the Prime Minister that I want to contest from Ampara as I can win the election