---
By Diana Udayangani and F. Azlam
The Janatha Vimukthi Peramuna (JVP) and Tamil Eelam Liberation Organization (TELO) which is a coalition party of the Tamil National Alliance (TNA) have decided to vote for the no-faith motion against Minister Rishad Bathiudeen .
At a news briefing held at the JVP Head Quarters in Battar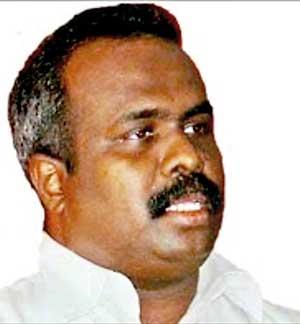 amulla yesterday (27) JVP media secretary and parliamentarian Vijitha Herath said this decision was taken on the allegations levelled against Rishad Bathiudeen. He said that JVP which put forward a No-faith motion against the whole government had no need to protect any minister.

He also said that there was no connection between the parliamentary select committee that was appointed to inquire into the Easter Sunday attack on April 21 and the No-faith motion against Rishad Bathiudeen. Therefore, the government has no moral right or legal provision to postpone the No-faith motion after appointing a Parliamentary select committee.

Falling in line with the previous stance of the JVP with regard to the No-faith motions put forward against Ranil Wickremesinghe and Ravi Karunanayake, he said the JVP would follow the same principle with regard to Rishad Bathiudeen.

Meanwhile the Tamil Eelam Liberation Organization (TELO) will vote in favour of the no-confidence motion on Minister Rishad Bathiudeen, its leader TNA MP Selvam Adaikalanathan said.

The decision to support the motion was taken at a special meeting of party seniors and the two TELO MPs will vote for the motion accordingly, Mr. Adaikalanathan said.