---
some using saffron robe to their own advantage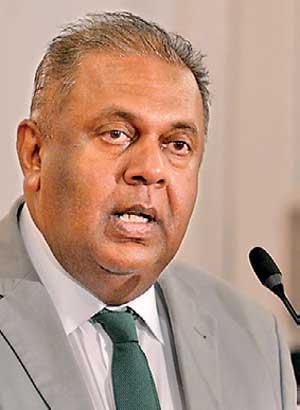 By Yohan Perera and Ajith Siriwardana

Finance Minister Mangala Samaraweera told Parliament yesterday that he would not call himself a Buddhist but a person who follows the Buddhist Philosophy.
"There is no religion called Buddhism as it is only a philosophy. Buddhism does not belong only to Sinhalese as Buddha's teachings have covered the entire universe. Some Buddhist monks who think Buddhism is a religion create so much of trouble in this country," he added.

He reiterated that those who are living in this country are Sri Lankans, though the majority is Sinhalese Buddhists. "I was scolded in raw filth for making a similar statement earlier. However I would repeat that sentiment again," he said. The minister alleged that some organisations led by monks such as Mahason Balakaya are trying to create another black July and destabilize Sri Lanka's economy. Alleging that a factory belonging to a Muslim businessman had been burnt during the recent clashes, he said the Sinhalese would also suffer if Muslim business establishments are attacked and destroyed, because the majority of people working in those establishments

are Sinhalese. Citing a few examples, he said 75% of Brandix, 80% of Hameedia and 80% of Timex Garments were Sinhalese although these belong to Muslims. "We managed to stabilise the economy when we came to power in January 2015. However, the droughts, floods and the constitutional coup on October 26, 2018 and the Easter Sunday bombs have de-stabilised the economy. The tourism industry has suffered a setback, but a few countries have assured to look into cancelling travel advisories," he said.
He said the Sinhalese would also suffer if Muslim business establishments are attacked and destroyed, because the majority of people working in those establishments are Sinhalese