---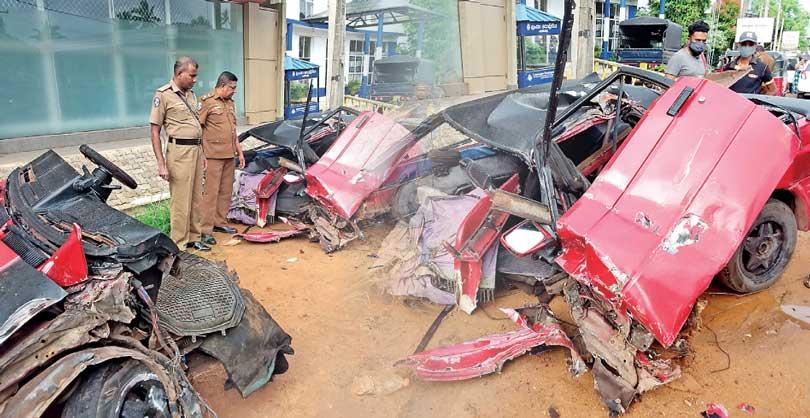 Their two children and the vehicle driver injured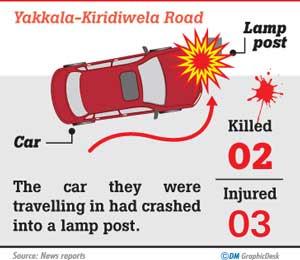 By Tilakaratne Dissanayake
A 43-year-old husband and his 40-year-old wife were killed while their two children and the car driver were injured when the car they were travelling in crashed into a lamp-post opposite the Yakkala weekly fair on Thursday night.

The car had broken up into two.

The husband P.R.Vajira Nishantha Jayasinghe and his wife S.M. Niluka Damayanthi Satyanngani and their two daughters aged 20 and 13 were on their way home after a visit to Badulla when they met with the road tragedy. At Yakkala a friend had offered them a lift in his car to proceed towards Colombo.

Preliminary investigations had revealed that the driver had been under the influence of liquor at the time of the accident.

Traffic Branch OIC Inspector Sarath Gunasinghe, SI A.W.K. Bandara and PC 75114 Darshana are conducting further investigations on the instructions of Yakkala Police OIC Inspector Sumith Susantha.

Blurb --*** The husband P.R.Vajira Nishantha Jayasinghe and his wife S.M. Niluka Damayanthi Satyanngani and their two daughters aged 20 and 13 were on their way home after a visit to Badulla when they met with the road tragedy

***Preliminary investigations had revealed that the driver had been under the influence of liquor