---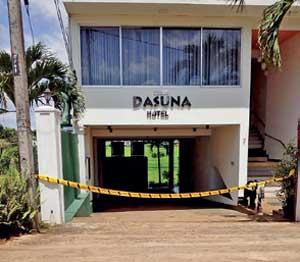 By Darshana Sanjeewa Balasuriya and H.M. Dharmapala
The Piliyandala Police are investigating the killing of hotel owner at Kesbewa after his body was found inside the hotel yesterday, the police said. They said the deceased's wife was admitted to the Colombo South Teaching Hospital with injuries. The Piliyandala police recorded statements from the hotel staff and the guest in connection with the owner's death.
Though the CCTV camera footage at the hotel was examined no incriminating evidence has been found.
The body of the 50-year-old hotel owner was found on his bed with several head injuries. He was a resident of Gurugammana Road in Kesbewa.

Police suspect the victim to have been hit with a blunt object on the head. No arrests have still been made.