---
The search operation was launched with the assistance of residents in the area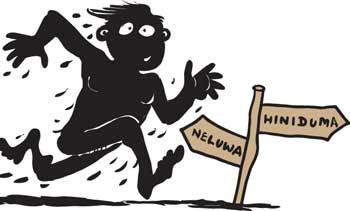 By Jayakantha Liyanage
Police have launched a massive search operation to arrest nudists, popularly known as "Grease yakas" frequenting Neluwa and Hiniduma police divisions. They are said to enter the houses at night and frighten the residents.
Personnel attached to the Neluwa, Hiniduma, Thawalama, Udugama and Wanduramba police stations carried out the search operation for the past two days but no arrests had been made.

Police said the search operations were carried out with the help of the residents and under the supervision of ASP Sisila Kumara. They were carried out in the wake of increasing complaints about these activities. A senior police officer said the people were living in fear of possible danger to their lives .

Neluwa Police OIC Chief Inspector U. Arulanandam said the police were continuing the search operations and requested the public to provide any information that might lead to the arrest of these miscreants.