---
It seems that the government is undecided on the agreement as one minister says 80 per cent of it is good, while another says the government is studying it. Some others in the government says it will not sign it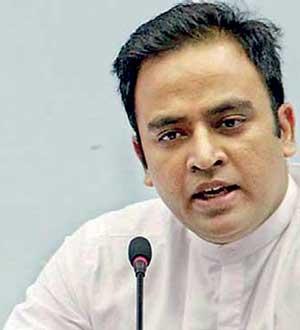 By Yohan Perera
The government should decide on the Millennium Challenge Corporation (MCC) Agreement with the United States before the general elections, SJB candidate Harshana Rajakaruna said yesterday.
Mr. Rajakaruna told a news conference that the government should take a proper stand on the agreement before elections as per the pledge it made during the presidential elections. "The government got the mandate to refrain from signing the MCC agreement and therefore it should come up with a clear stand on it," Mr. Rajakaruna said.
"It seems that the government is undecided on the agreement as one minister says 80 per cent of it is good, while another says the government is studying it. Some others in the government says it will not sign it. Therefore, it is time that the ruling party takes a proper stand on it," he added.

Asked about the SJB stand on the agreement, Mr. Rajakaruna said they always believed that the Sri Lanka would have some benefits from the MCC agreement.

He said the government should also take a stand on the Hambantota Port agreement with China as the SLPP opposed it when in the opposition and harped on it during the last presidential election campaign.