---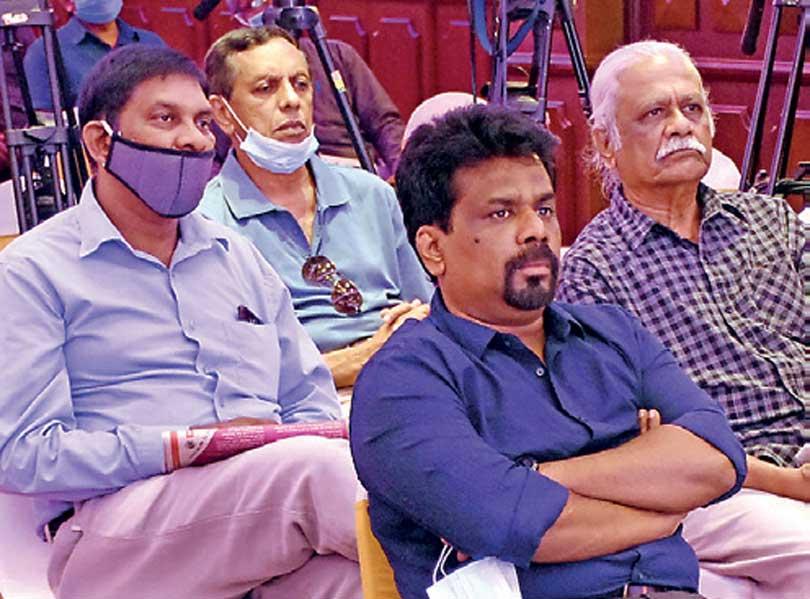 People's Pioneer Artists
An event organised by the People's Pioneer Artists was held yesterday at the Solis Hotel in Pitakotte with the participation of JVP leader Anura Kumara Dissanayake and a group of artistes.
Pic by Kushan Pathiraja
By Ajith Siriwardana
The Janatha Vimukthi Peramuna (JVP) leader Anura Kumara Dissanayake said yesterday that the irresponsible behaviour of the government during the election period is an alarming signal to the people as to how it would act after the election and said people should collectively face this alarming situation.
He told an event held at Solis Hotel in Colombo that governments usually act with responsibility during the election period and added that how this government is acting now gives an alarming signal on its action in the future.

"The election period is usually called the 'interval' of the governments and expected them to deliver the goods. People expect the government to reduce prices of essential commodities and bring the culprits to book etc., But, what this government is doing is in contrast to that. Special commodity levy was imposed on essential commodities at the time when the election is just around the corner. Fraudsters such as Udayanga Weeratunge is engaged in election campaign on behalf of the present rulers. Government is adopting a lethargic approach to the vandalism of artefacts in Kurunegala," he said.

Mr. Dissanayake said people should be united to counter this impending danger irrespective of party politics.

Commenting on the government's appealing for two-thirds majority, he said governments with the majority in the past had proven that it was more disastrous and harmful when they had excessive power.