---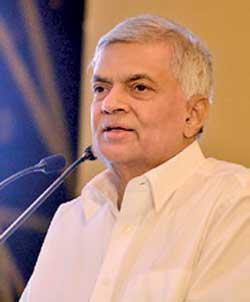 By Yohan Perera
Highlighting that Sri Lanka is readying to go for a bond and security repurchase agreement and to sign the Millennium Challenge Corporation (MCC agreement) with USA, former Prime Minister Ranil Wickremesinghe yesterday requested the government to clarify on this matter.
Speaking at an election rally in Ratnapura, Mr. Wickremesinghe said, the government is readying to mortgage the country's resources and to sign the MCC agreement with USA since Sri Lanka's economy is sinking like the Titanic.

"Government is planning to go for a repo agreement with Federal Reserve USA. Sri Lanka's resources will be mortgaged to borrow USD 1 billion. Federal Reserves will assist us only if Sri Lanka hands over the US bonds and bills it is holding currently. News items to this effect were carried in media. This was never clarified by the government. I waited for some time until they did it. Therefore I am going public with this piece of news as the government has been silent about it. Treasury Secretary had confirmed that the government had asked for a billion dollars from the New York branch of Federal Reserve," Mr. Wickremesinghe said.

"A billion dollars is not sufficient to overcome the economic crisis faced by Sri Lanka. We don't have funds to settle these loans. If we handed over these treasury bills we have to buy them back at a rate," he added. "Government has also agreed to sign the Millennium Challenge Corporation Agreement. I am clearly aware of it. The government pledged that it will not sign it. Parliament has the power to decide on it. The government is trying to bypass it. Government should come out with a statement on it. It has also informed IMF that it will agree to any condition after the general elections. They should come up with a statement on these moves if I am wrong. It should state whether it has not asked for Federal Reserve and with the IMF. It intends to engage these activities in secret. These should be done in a transparent manner" he also said.