---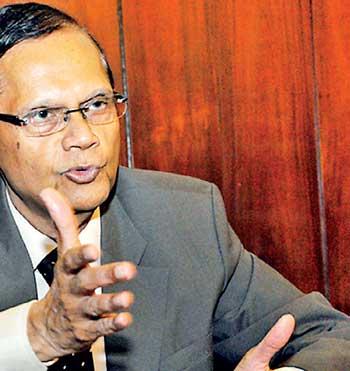 By Lahiru Pothmulla
One of the key features in the political programme of SLPP's presidential hopeful Gotabaya Rajapaksa is that it is void of mudslinging and defamation, SLPP Chairman Professor G.L. Peiris said yesterday.
Addressing a news briefing, he said Mr. Rajapaksa had indicated his programme was solely based on his vision and principles to develop the country.

"When he was named the SLPP's presidential candidate at the party convention and subsequently at the Viyath Maga convention, Mr. Rajapaksa enumerated on his vision and mission to develop the country. He revealed his plans for the development of the economy, healthcare, education and other sectors. Therefore, our candidate has no obstacle. However, we cannot say the same about the UNP where there is competition for the presidential nominee ticket. Its candidate has no impact on ours since our programme is based on strong polices," he said.

He said those who could not politically challenge Mr. Rajapaksa were spreading false rumours about him. "Some still spread false reports claiming Mr. Rajapaksa is a dual-citizen. There is no legal obstacle for him to contest the presidential election as he is not a dual-citizen anymore. A dozen cases have been filed against him. Although court cases have been filed, no court has declared him guilty. Meanwhile, the UNP's presidential hopeful Sajith Premadasa has said he had a strategy to generate hundreds of thousands of job opportunities if he were elected President. The question is why he could not do anything about this for the last four and a half years. He is a minister of the incumbent government but could not do anything," he said.
When he was named the SLPP's presidential candidate at the party convention and subsequently at the Viyath Maga convention, Mr. Rajapaksa enumerated on his vision and mission to develop the country
Some still spread false reports claiming Mr. Rajapaksa is a dual-citizen. There is no legal obstacle for him to contest the presidential election as he is not a dual-citizen anymore. A dozen cases have been filed against him