---
Six suspects remanded till May 29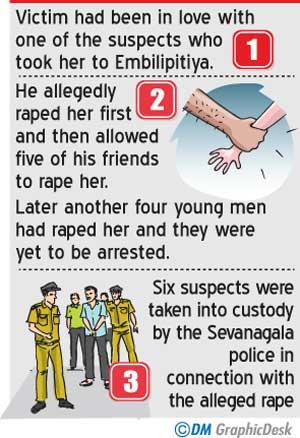 By Sumanasiri Gunatilleka
Six suspects were taken into custody by the Sevanagala police in connection with the alleged rape of an underage girl was produced before Embilipitiya Magistrate K.P.R.Lakmini Vidanagamage who remanded them till May 29.
The victim was a resident of the Sevenagala area.

Police told court that the victim had been in love with one of the suspects who took her to Embilipitiya and allegedly raped her first and then allowed five of his friends to rape her. Later another four young men had raped her and they were yet to be arrested.

The magistrate ordered police to produce the six suspects on remand for an identification parade. A police team under OIC Sevenagala police IP G.Ariyawansa is conducting further investigations.
Six suspects remanded till May 29
Magistrate orders identification parade