---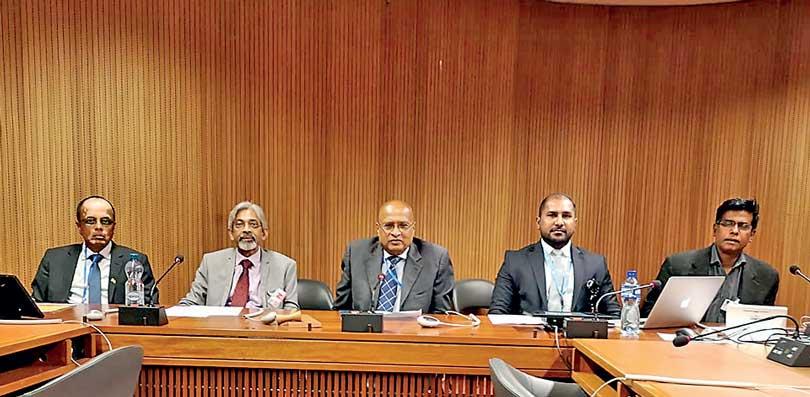 From L to R: Mehmet Sukru Guzel, Brian Basnayake, Eric Makawitage, JTenny Fernando and Malinda Seneviratne
Speakers at an event titled 'War, reconciliation and human rights in Sri Lanka,' organized by the Executive Committee of the Global Sri Lanka Forum (GSLF ExComm) on the sidelines of the 41st Sessions of the UNHRC in Geneva on July 12, addressed the unfolding situation following Resolution 30/1 of 2015.
Attorney J Tenny Fernando argued that the resolution has clearly compromised the security apparatus in the country and paved the way for the terrorist attacks on Easter Sunday carried out by the National Thawheed Jama'ath.

Referring to the resolution's insistence on security sector reforms as part of 'transitional justice process,' Fernando pointed out that the recommendations were blindly implemented by the Government of Sri Lanka resulting in breaking the morale and rendering ineffective the intelligence units. He also observed how the Prime Minister of Britain pledged to protect that country's armed forces 'against any instances of vexatious complaints.'

Senior journalist and political analyst Malinda Seneviratne said that it would be simplistic to understand the rise of Islamic extremism as a response to other extremisms. He further explained how the Easter Sunday attacks showed how religious freedoms enshrined in the Constitution can be abused by extremist groups. Brian Basnayake, a longtime activist currently resident in Switzerland who has consistently defended Sri Lanka's interests said that 'one of the most repugnant consequences of the pressures exerted by UNHRC resolutions is the leverage given to Western powers to extract commercial and military concessions from not so resilient governments and equally weak leaders in developing countries.'

While acknowledging that the UNHRC has played an important role globally, Basnayake lamented the selectivity of intervention. He roundly criticized the tendency of the Council to align with Western powers and a manifest lack of interest in protecting the interests of smaller and weaker nations.
He also referred to the draft agreement between the USA and Sri Lanka (Status of Forces Agreement — SOFA) and warned of imminent dismemberment of the country and virtual serfdom of Sri Lankans.

Prof Mehmet Sukru Guzel, a Turkish expatriate and nominee for the Nobel Peace Prize on multiple occasions, observed a strange reluctance on the part of the UNHRC to take on the damning issue of the virtual right to kill with impunity enjoyed by self-styled 'national liberation struggles'. Most importantly he flagged the illegality of the Norwegian 'peace' process in Sri Lanka. He pointed out that it was not a UN sanctioned initiative and the legitimation wrested in the process is in fact null and void. However, he argued, acts of violence elsewhere are being invested with justification by citing the Norwegian 'peace' process. This, he said, demonstrates a gap in the humanitarian discourse of the Council for it completely ignores justice for the victims of action perpetrated by terrorist organizations.

Eric Makawitage, the point man in Switzerland for the GSLF ExComm and a long standing crusader for the Sri Lankan cause, moderated the session.

Pic: From L to R: Mehmet Sukru Guzel, Brian Basnayake, Eric Makawitage, JTenny Fernando and Malinda Seneviratne