---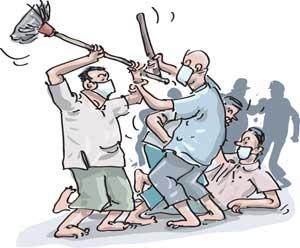 By K.G. Karunaratne
At least five COVID-19 patients receiving treatment at the Kandakadu Treatment and Rehabilitation Centre were injured after a quarrel broke out between two factions Tuesday night, police said.
When contacted, Polonnaruwa General Hospital Director, Specialist Doctor Sampath Indika Kumara said none was seriously injured during the scuffle.
The clash took place among patients detected at the Drug Rehabilitation Centres in Kandakadu and Senapura, however, was brought under control by the army personnel who provide security to the centre.

The cause of the clash has not still been identified and further investigations are carried out by the police.
Dr. Sampath Indika Kumara said none was seriously injured during the scuffle