---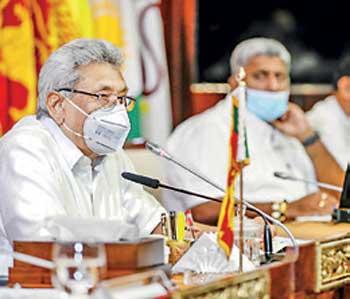 By Lahiru Pothmulla
President Gotabaya Rajapaksa yesterday warned that he would not hesitate to remove officials of the Central Bank (CB) or State Banks from their positions if they fail to take steps to implement the guidelines formulated by the government.
Speaking at a meeting held with a large number of leading exporters at the Presidential Secretariat, President Rajapaksa said he would continue to work with individuals who are ready to fall in line with the government's guidelines after removing officials who fail to do so.

The President's Media Division said the meeting was called to apprise the exporters on the current steps taken by the Government to revive the economy whilst the country returning to normalcy and to identify issues in the sector.
He said here is criticism in the society regarding the contribution of the public and private banking sector for the economic revival of the country.

"It can be clearly seen that the reliefs granted by the government for the benefit of the public as well as for business enterprises were not passed down adequately to the society. It is a matter that should be promptly addressed," he said.
The President said that he will take decisions without fear to deviate from the conventional thinking and work methods to overcome the recession.
The entrepreneurs pointed out the issues related to the non-availability of fertilizer for certain export crops and the shortage of animal food for animal husbandry.

The President said that steps have already been taken to solve these issues. The exporters said that the support given by the institutions directly related to the export process like the Port, Airport, BOI, and Customs is praiseworthy.

Issues revolving the exportation of coconuts, coconut oil, coconut based products, tea, apparels, vegetables, fruits, rubber and rubber based products, Information Technology, seafood, minor crops including black pepper were discussed in depth. Export diversification was recognised as essential during the discussion.

Head of the Presidential Task Force on Economic Revival and Poverty Eradication, Basil Rajapaksa said several raw materials have to be imported for re-exportation purposes.