---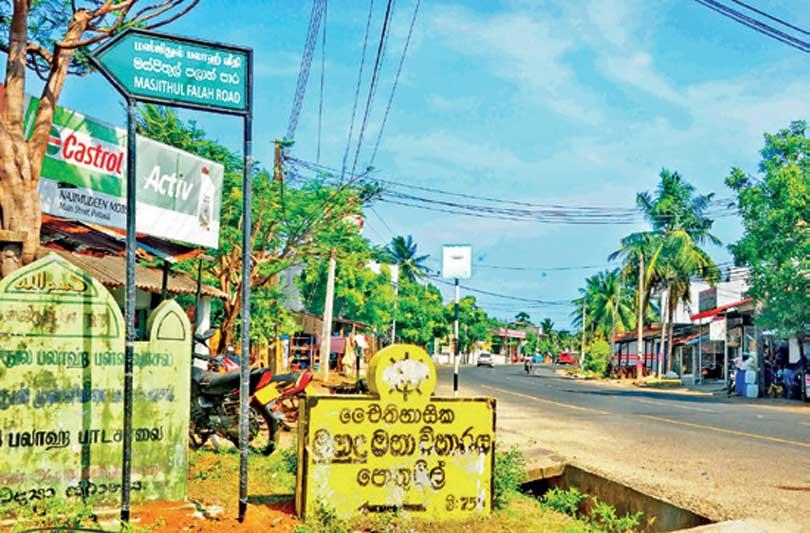 Says Sinhalese are under an Islamic rule and undergo immense suffering
By Nimal Jayarathne – Manampitiya
A group of extremists has been active in fixing signboards with Arabic names to Muhudu Maha Vihara Mawatha and other streets in the town, said Ven. Warakapola Indrasiri Nayake Thera, Eastern Province Sangha Nayake and Chief Incumbent of Muhudu Maha Viharaya in Pottuvil.
The Ven. Thera told a media discussion held last Wednesday that the name board 'Historical Muhudu Maha Viharaya, Pottuvil' was changed to 'Masjithul Palah Road.' The discussion was attended by the former Registrar of Polonnaruwa Sasanarakshaka Bala Mandalaya Ven. Dimbulagala Rahulalankara Thera and several other monks.

Ven. Indrasiri Thera said he addressed the gathering with deep regret as the Sinhalese were under an Islamic rule and underwent immense suffering.

"There is no one to lend a patient hearing to our woes and no authority to offer any solution. We have only the media to reveal our plight. Out of the 72 acres of archaeological land that belonged to the Viharaya, 55 acres were forcibly acquired by Muslim extremists. The government appears to be deaf. The court does not accept the cases filed. It discourages cases filed in Sinhala and insists on filing them in Tamil language. Recently, Muslims who support the Tawheed Jamaat jointly put up Arabic names for streets and lanes. They did not even spare the road leading to the Viharaya. There is a political hand behind all these activities. With the aim of increasing the powers vested with the Eastern Province, President Maithripala Sirisena has given M.L.A.M. Hizbullah the Co-Chairmanship of the District Coordinating Committees in Ampara, Batticaloa and Trincomalee Districts. Buddhist monks in the Eastern Province protest against this move. Today, the Sinhala Buddhists in the Eastern Province have been given the third place. We urge the government to rename these roads after the names of war heroes and to remove Arabic laws from the province," he said.