---
Those who oppose death sentence oppose punishment to Easter Sunday killers

Spoke to Singapore Premier on extradition of Arjuna Mahendran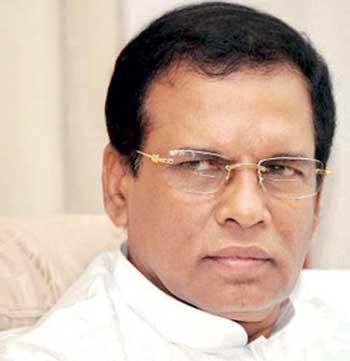 President Maithripala Sirisena said yesterday everyone connected to the Easter Sunday attack was arrested and that they should receive the death sentence as there was clear evidence against them.
He also said that inquiry into the Central Bank Bond Scam was continuing and that he had already spoken to Singapore Prime Minister on the extradition of former Central Bank Governor Arjuna Mahendran to Sri Lanka.

He said all those responsible for the bond scam had been identified and that they have been arrested."Warrants by Interpol have been issued to the suspects who were out of the country," he said.

The President made these comments at an event held in Pelenda Rajamaha Viharaya yesterday.

He accused that the move to bring in a motion in Parliament to abolish the death sentence was a move to prevent the death sentence being implemented on the barbaric terrorists who killed more than 300 innocent people on Easter Sunday.

He said punishment should be implemented to create a good society and added that having a fear of the punishment will reduce wrongdoings in a society which will help create a good society and a country.

He said according to the criminal law of this country, anyone charged with murder, an attempt of a government coup and terrorist activity were subjected to death sentence and added that moves by some government members to abolish death sentence would prevent any such criminal being punished.

On a different note, the President said he would reject and vehemently condemn if anyone of any status insult the Maha Sanga.