---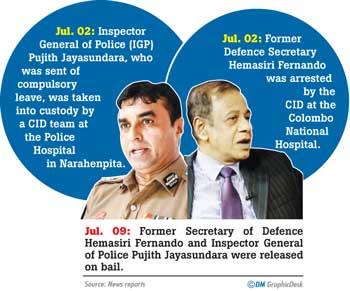 By S.S.Selvanayagam
A seven-judge Bench of the Supreme Court yesterday fixed for support on July 25 for leave to proceed on the fundamental rights petitions filed against former IGP Pujith Jayasundara and former defence secretary Hemasiri Fernando for failing to act on the intelligence information in connection with the attacks on April 21.
Mr. Jayasundera and Mr. Fernando have filed objections while the Attorney General and the other respondents are to file limited objections by July 18 and the counter-objections by the petitioners by July 23.
AG Dappula de Livera informed Court that he was not appearing for Mr. Jayasundera and Mr. Fernando. Viran Corea appeared for the former IGP while Anuja Premaratne appeared for the former defence secretary.

The AG with Additional Solicitor General Farzana Jameel, Deputy Solicitor General Nerin Pulle and Senior State Counsel Induni Punchihewa appeared for the Attorney General.
Twelve petitions were taken up before the Bench comprising Chief Justice Jayantha Jayasuriya, Justice Buwaneka Aluwihare, Justice Sisira de Abrew, Justice Priyantha Jayawardena, Justice Prasanna Jayawardena, Justice L.T.B. Dehideniya and Justice Murdu Fernando

Gamini Perera appeared for the petitioners Janath S.Vidanage, who is the Managing Director of a Travel Company and Saman Nandana Sirimanne, the father of the deceased Medha Sathsarani Sirimanne ( 21) and Imesh Thiwanka Sirimanne.

Saliya Peries PC appeared for Rev. Frs Ashok Stephen, Sarath Ithamalgoda and Sherard Jayawardana.

Faisz Musthapha PC with Razik Zarook PC, Faiza Markar, Faris Sally, Hejaz Hisbullah and M.Mehran Careem appeared for the petitioner Hilmy Ahamed.

Sanjeeva Jayawardena PC appeared for BASL