---
By Yohan Perera
People have doubts about whether our political leaders can bring stability to the country and save us from the unfortunate situation we are in, Archbishop of Colombo Cardinal Malcolm Ranjith said yesterday.
"There are some politicians here today. We request them to be honest and to work with a backbone, not to safeguard those who have done wrong. I request them to work towards a country where justice and fairness prevail.

Most of the people are confused. They are doubtful whether the country will ever come out the prevailing uncertain situation. They doubt whether our political leadership is capable of taking this country out of the mess it is in," Cardinal Ranjith said.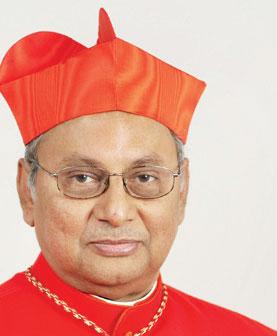 Several Ministers including John Amaratunga, Ravi Karunanayake, Speaker Karu Jayasuriya, MPs Kavinda Jayawardene and Hector Appuhamy were present when the Cardinal made these comments at the re-consecration of St Anthony's Shrine that was damaged as a result of the bomb blast on Easter Sunday. The traditional consecration ceremony was held last evening after the renovation work was concluded.

"Our country is striving to come out of an unfortunate situation that took place on Easter Sunday. We must pray the our country will be free of acts of revenge, corruption and fear. We must safeguard human rights. We must pray for healing of hearts and souls. We hope that the identities of all people in this country are safeguarded.

Human lives are more valuable than anything else. Therefore no one has the right to take away the life of another. God created us because of his love for us. He created us in his own image. It is his breath which is in us. Therefore, those who created havoc on Easter Sunday by taking innocent lives will not go to heaven but to hell. We are compassionate towards them," he added.

Those who blew themselves up on Easter Sunday did so to fulfil the wishes of extremists. Their objective was to spread their ideology all over the world. Let's build a spiritual home within ourselves and love one another," he added. Cardinal Ranjith thanked Minister of Housing and Cultural Affairs Sajith Premadasa for his assistance in getting the shrine reconstructed. He also thanked Minister of Power and Energy Ravi Karunanayake, Minister of Ports and Shipping Sagala Ratnayake, Speaker Karu Jayasuriya and Minister of Tourism and Christian Affairs John Amaratunga, the Navy, the security forces and the police for the assistance rendered to the Catholic Church in the efforts to restore the damaged church.