---
■ even during the '52-day Government' they saw the Judicial system stood firm. The order on the Defence Secretary and the IGP was similar
■No one, especially the executive, can interfere with the judiciary. The independence of the judiciary has been established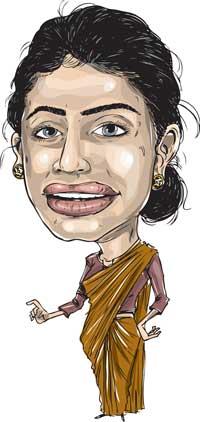 By Darshana Sanjeewa Balasuriya
UNP MP Hirunika Premachandra said yesterday that the court decision given to release former Defence Secretary Hemasiri Fernando and IGP Pujith Jayasundara on bail was an example that the rule of law prevails in the country and no one can intervene with the Judiciary.
Addressing a press briefing at the Temple Trees, she said that the Magistrate's order to release former defence secretary and the IGP was a historic decision.
She said that even during the '52-day Government' they saw the Judicial system stood firm. The order on the Defence Secretary and the IGP was similar, she said.
"It shows that no one, specially the executive, can interfere with the judiciary. the independence of the judiciary has been established during the last four and-a-half years since the formation of the Yahapalana Government. A considerable number of cases have been resolved during this period," she said.

The parliamentarian said authorities who were responsible for Easter Sunday attack cannot wash their hands by landing the blame on the IGP and former Defence Secretary.
"Although certain individuals had tried to cover up those who were responsible for the attack, we had seen during the Parliamentary Select Committee (PSC) proceedings they were pointing their fingers at the relevant political authorities. As the Commander-in-Chief, the Minister of Defence and the Minister of Law and Order, the President has clearly avoided the information received. The evidence of the Defence Secretary and the IGP made them clear during their statements before the PSC" she said.

She also requested the President to appear before the PSC stating the Prime Minister would also appear before it in the future.

Pic by Pradeep Pathirana