---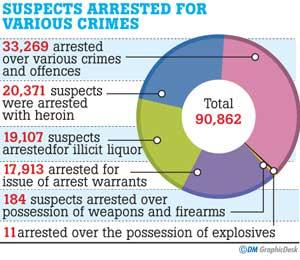 By Darshana Sanjeewa Balasuriya
A total of 90,862 suspects have been arrested for various crimes including possession of narcotics, firearms and explosives during countrywide police raids conducted from June 16 to July 23, Police said yesterday.
They said nearly 200 firearms and 30 hand grenades were among those seized.

In a media release, Police said:

"A total of 20,371 suspects were arrested with 14.6 kilogrammes of heroin, 695 Kilos of cannabis and 4.6 kilos of the ice drug. The Police said 33,269 suspects were also arrested over various crimes and offences.