---
It is extremely important to protect COVID-19 patients from dengue as well
18,977 cases of dengue had been reported to the GEU this year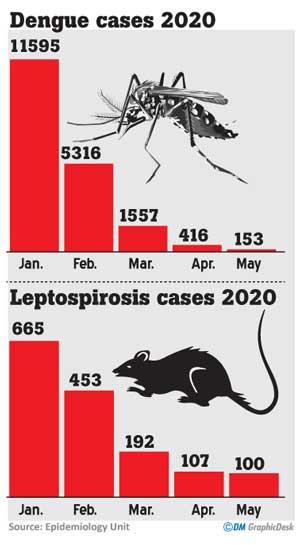 By Sandun A Jayasekera
Health authorities yesterday raised concerns over the increase in cases of dengue and leptospirosis at a time when the country was fighting a deadly COVID-19 viral infection and stressed the need to pay attention to keep the three communicable diseases under control.
The Chief Dermatologist of the Government Epidemiology Unit (GEU) Dr. Sudath Samaraweera told the Daily Mirror that if a COVID-19 patient was infected with DENV or dengue virus his or her complications would become serious and life threatening.

"Therefore, it is extremely important to protect COVID-19 patients from dengue as well," Dr. Samaraweera warned.

In the last four months up to end of April, 18,977 cases of dengue had been reported to the GEU with 413 in April alone.

Dengue has a seasonal transmission in Sri Lanka, with two peaks occurring with the monsoon rains in June-July and October-December respectively. The majority of cases occur during June-July, the summer monsoon, Dr. Samaraweera added..

At present almost all districts in the country are reporting cases of dengue. Colombo, Gampaha and Kalutara districts in the western province have recorded the highest case rate particularly during epidemic year.
Leptospirosis popularly known as rat fever has caused 9 deaths in the last four months of this year from among some 500 patients.

"You must never step into a paddy field, culvert or lake with stagnant water as it may have been contaminated with rat urine. The contaminated stagnant water with urine of rats is the main carrier or leptospirosis. If diagnosed and treated early it can be fully cured. But if the patient is brought to the hospital terminally ill, he or she cannot be saved," he stressed. Dr. Samaraweera said farmers in districts of Kalutara, Galle, Matara, Ratnapura, Anuradhapura, Polonnaruwa and Badulla identified as risk Districts must take two 100 mg. anti bacterial tablet Doxycycline daily to kill the bacteria 'genus Leptospira' that brings leptospirosis.
It is extremely important to protect COVID-19 patients from dengue as well