---
Ravi Karunanayake, Arjun Aloysius, Kasun Palisena and Geoffrey Joseph Aloysius were present in Court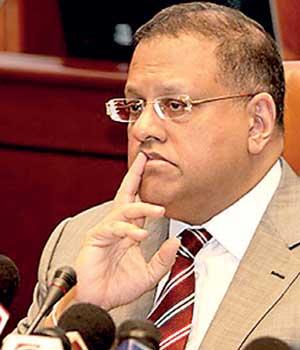 By Yoshitha Perera
The Colombo Fort Magistrate yesterday ordered the Criminal Investigation Department (CID) to execute the previous warrant issued for the arrest of suspects Arjuna Mahendran and Ajahn Punchihewa over the Central Bank Treasury Bond Scam.
When the case was taken up before Colombo Fort Magistrate Ranga Dissanayake, suspects including Ravi Karunanayaka, Arjun Aloysius, Kasun Palisena and Geoffrey Joseph Aloysius were presented in Courts.

However, on March 13, Court of Appeal ordered the Fort Magistrate not to issue any order against the suspects of the Central Bank Treasury Bond Scam, who appeared before the Fort Magistrate on the said date.

The order was made by the Court of Appeal after the considering the writ petitions filed by Ravi Karunanayake and other suspects challenging the immediate arrest warrant issued by Fort Magistrate on March 3. When the case was taken up yesterday, the Magistrate said that he did not order these suspects to be present in Courts until the case in the Court of Appeal's is over. Accordingly, President Counsel Rienzi Arsakularatne (PC) informed the Magistrate that he would advice the suspects not to appear in Courts until Court of Appeal case is over. The Magistrate also questioned the CID that why they had failed to execute the previous arrest warrant on the suspects, who did not present in court on March 13.