---
Boasts of team competent of executing plans
Assures more investment in education sector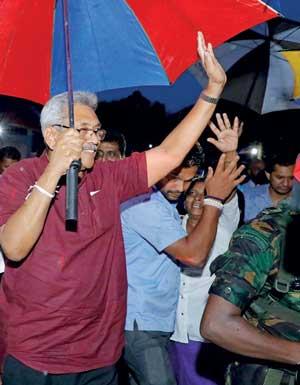 By Lahiru Pothmulla
SLPP presidential candidate Gotabaya Rajapaksa said a secured country could not be expected from a Cabinet that did not have any knowledge on security. However, he assured a peaceful and secured nation under his leadership.
Speaking at a rally held last evening in Horana, he said people continually demanded for a country in which they could live without fear.
"When I went to Balangoda and Pelmadulla rallies, people asked for security to be restored. We had in place a clear defence programme and proper intelligence service coordination. But due to short-sighted initiatives by this government, bombs went off in churches. This is a government that did not give prominence to national security. It destroyed the reputation of war heroes and diluted the intelligence service," he said.

Commenting on various programmes launched by the Rajapaksa Government, he said such efforts helped Colombo to become the fastest-growing city in Asia at that time.
"This government halted those projects and as a result, the economy collapsed. We have come up with a people-centric economy to uplift all sectors. We used to have a team that could execute plans, but we will return with a similar team," he said.

On a different note, he said his government would invest more in the education sector. He assured that all students who successfully passed the GCE A/L examination would be given the opportunity to enrol at a university. "The other students will be given technical and vocational training so that they could find a job that offers a better remuneration," he said.
He asked people to place their trust in him just like he placed his faith in them. "I invite you to perform your duty and I will fulfil mine in order to create a secured and prosperous country. We will rebuild the economy," he said.

SLPP Leader Mahinda Rajapaksa, SLPP Chairman Professor G.L. Peiris, MP Vidura Wickramanayake, party leaders of the opposition including Wimal Weerawansa and Udaya Gammanpila were present at the occasion.