---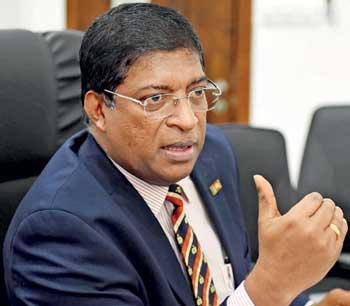 By Sandun A. Jayasekera
While assuring there will be no power cuts after tomorrow night, Power and Energy Minister Ravi Karunanayake said the Ceylon Electricity Board (CEB) would purchase 500 megawatts of supplementary power from Private Power Providers (PPPs) to fill the gap in power supply created by the ongoing drought.
He said a unit of supplementary power purchased from PPPs would be less in many instances than the power generated by CEB-owned thermal power plants.

"For instance, a unit of power generated at the CEB-owned combined cycle power plant at Kelanitissa costs Rs.37 a unit. We have inked agreements to purchase power from the private sector for Rs.30 per unit. With the long-term generation plan we have in mind that comprises four LNG plants, three coal power plants and another three gas turbine power plants that would generate a combined 2,500 MWs, I hope we will be in a position not only to turn the CEB around to be on an even keel, but to lower electricity tariffs," he said.

He told the media yesterday that his ministry would devise a mechanism to find a permanent solution to the power crisis that hurts dearly the consumers, the industry and the economy following severe droughts.

"I admit that the situation in the power sector is precarious. You must realise that major power plants do not add the full capacity to the national grid due to various technical issues during generation, transmission and distribution. For instance, the Lakvijaya Coal Power Plant, when in full operation, adds only 810MWs though the installed capacity in three generators is 900MWs. Other thermal and hydro power plants are no different. Therefore, the CEB has no option but to purchase power from the private sector when hydro-power generation drops steeply," he said.

By last Saturday, hydro-power generation had plummeted to 11% while coal power generation remained at 42%. The costly thermal-power generation was 45% and solar and wind power generation was around 2%.

Responding to a question raised by Daily Mirror on whether there was a deliberate attempt to delay or the failure to build a single power plant after the Lakvijaya Coal Power Plant that commissioned its first generator in 2011, the minister did not dismiss the allegation.

"Yes, there has been a lack of interest to face the impending power crisis by the bureaucracy as well as the political authority notwithstanding the fact that alarms on an impending power crisis were raises several years back. It is only less than three months since I took over this ministry. I try my best to find a sustainable solution to the power crisis and I have confidence that there will be no more power cuts at least as long as I remain as the subject minister," he said.

The drought has prevented about 600MWs to the national grid thus creating the power shortage and certain reservoirs like Samanalawewa had suspended releasing water to power generation as priority was to supply water for drinking and agriculture purposes.

Responding to a journalist, the minister said the CEB had not purchased or planned of purchasing power from a Barge Mounted Power Plant (BMPP), but would repair the CEB-owned 15-year-old BMPP for its use.

The minister said he expected to have a dialogue with industrial leaders on the power they consumed, paying the same tariff paid by other consumers including low-income families.
I admit that the situation in the power sector is precarious. You must realise that major power plants do not add the full capacity to the national grid due to various technical issues during generation, transmission and distribution