---
But should follow strict health and security guidelines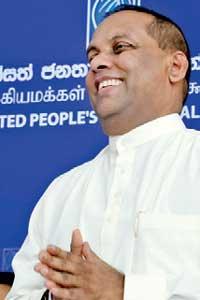 By Sandun A Jayasekera
Commuter Transport Management Minister Mahinda Amaraweera yesterday permitted trains, SLTB and private buses to take passengers to seating capacity from today (13) under strict health and security guidelines.
He took this decision after reviewing the situation in the country and consulting health authorities and security officials.
Minister Amaraweera also held talks with private bus operators, SLR and SLTB officials before taking this decision.

"Private bus operators who are responsible for 40% of public transport have been demanding the Ministry to let them take passengers at least to seating capacity because taking one passenger per seat is not sufficient to cover their operational costs. We decided to start issuing railway tickets from tomorrow enabling the public to travel in trains," Minister Amaraweera said.

As such, the public and private and public sector officials will have the opportunity from today to travel by train, SLTB and private buses for essential services while strictly adhering to health and security advisories.
Therefore, passengers will not be issued with tickets unless they wear a face masks.