---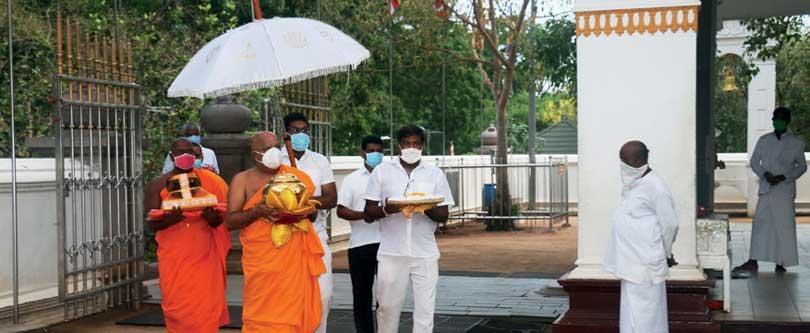 Poojas and customs performed sans devotees
By Atula Bandara , Kusal Chamath and M.K.Nandasena.
Temples all over the country were deserted yesterday which coincided with Vesak Full Moon Poya day in view of the Coronavirus threat.
The Anuradhapura Jaya Siri Maha Bodhi where thousands of devotees from far and wide attend religious activities usually on Full Moon Poya days was deserted yesterday. The resident monks performed the 'poojas ' with the participation of security personnel.

However, the milk rice Pooja at the Sri Maha Bodhi on the Vesak full moon Poya day was performed for the 53rd year by the Buddha Jayanthi Vihara under the guidance of Atamastanadhipathi Ven Pallegama Sri Niwasa Thera sans the Perahera .

Diyawadana Nilame Nilanga Dela said the usual Poojas and customs at the Sri Dalada Maligawa were performed as usual, but without the participation of any devotees. The sacred area of the Sri Dalada Maligawa had been deserted

Chief Incumbent of the Sri Padastana and the staff performed the usual Poojas and other rites without the participation of pilgrims.

The main places of Buddhist religious worship including the Kataragama Kirivehera, Mahiyangana temple, Muthiyangana temple, Aluthgama Kandeviharaya and Kalutara Bodhi where thousands of devotees attend daily religious observance usually were deserted yesterday.

However, the Poojas at the Kataragama Maha Devala were per formed by the Devala trustees without the participation of any devotee.

Meanwhile offering of alms to the Buddhist monks in temples were performed by the devotees as scheduled with the consent of the police and security forces.