---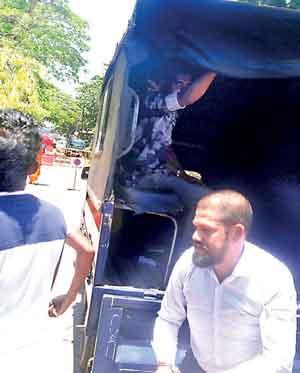 By Krishan Jeewaka Jayaruk
Actor Rayan Van Rooyan who was deported from Dubai on Wednesday was yesterday remanded till April 11 by the Matara Magistrate Isura Nettikumara.
The order was given after the police produced 5,750 milligrams of heroin which was found in the vehicle believed to have been used by him.

Police said the vehicle was parked at a hotel owned by Amila Prasanna Hettihewa, alias 'Sunshine Sudda', who was also arrested with Madush in Dubai recently.
They claimed that the vehicle was registered in the name of a woman residing at Uswetakeiyawa.

The actor and four others were deported from Dubai on Wednesday and arrested on arrival.

Thirty-one suspects including Makandure Madush, singer Amal Perera and his son Nadeemal were arrested at a luxury hotel in Dubai on February 4.

As of today, 13 people were deported from Dubai. Three of them were released while the others were either remanded or detained for questioning.