---
Brigadier, three others to be indicted in Special HC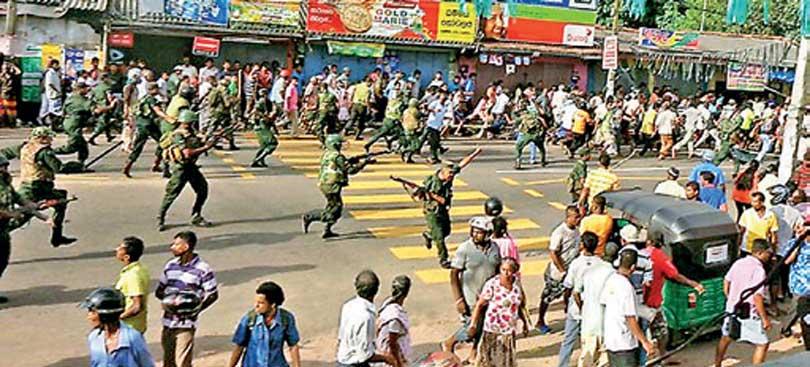 By T. Farook Thajudeen
The Attorney General had sought the sanction of the Chief Justice Jayantha Jayasuriya to indict a Brigadier and three other soldiers in the Special High Court for the shooting incident that took place in Rathupaswala on August 1, 2013.
As a result of the shooting some residents were killed and injured at Rathupasawala in Welveriya during their protests demanding for clean water for consumption. The Attorney General had sought permission of the Chief Justice to indict Brig. Anura Deshapriya Gunawardena and three other soldiers namely D. Aruna Sirisena, G.M. Thilakaratna and Lalith Gray at the Special Trial -at-bar High Court for the killing of three civilians and for causing grievous injuries to 16 civilians and non-grievous injuries to 21 civilians during the protest. Brig. Gunawardena was alleged to have led the army contingent to Rathupaswala to quell the protest by the residents who pleaded for safe drinking water. The army who ran amok killing three people and 33 others were injured due to shooting by the army.

Two students were also among those who had been killed in the shooting. Subsequent to the shooting, the Brigadier was produced before the Gampaha Magistrate D.A. Ruwan Pathirana and was remanded till May 31, 2013. However, he was later appointed as the Military Attaché at the Sri Lankan Embassy in Turkey.