---
Express confidence of securing 130 - 135 seats
Says no to alliances
'A new Constitution, more room for RTI, Independency of Commissions to be strengthened'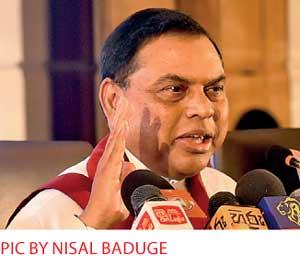 By Lahiru Pothmulla
The Sri Lanka Podujana Peramuna (SLPP) will record its third consecutive election victory at the General Election on Wednesday with at least 130 to 135 seats secured in parliament, SLPP National Organiser Basil Rajapaksa yesterday said.
Speaking at the last news briefing held before the election and flanked by SLPP Chairman Professor G. L. Peiris and Secretary Sagara Kariyawasam, Mr. Rajapaksa expressed confidence in securing a considerable majority at the General Election.

"The party, within a short span of time, will record its third election victory without a doubt. Had the election for Provincial Councils been held, the SLPP would have won a majority of provinces in that as well. We are confident of securing 130 - 135 seats at the General Election. The fate of the 'grand old party' will not be pretty.
The party that comes in second will not be able to garner at least half of the votes the SLPP will get. I don't think either the UNP or the other party can win any district but the TNA will win about three districts," Mr. Rajapaksa said.

He said a new Constitution was a need of the hour and the SLPP will bring in one that has no conflict between the Executive and the Legislature.

"A new Constitution has to be made, one without conflict between the Executive and the legislature. If people want a good and a solid constitution for the country, they should give us the two-third victory. However, we are not going for an alliance with other parties at the moment. On the other hand, I think the JVP should have some seats, as the current opposition provides jokes," he said.

Commenting further on Constitutional reforms, Mr. Rajapaksa said, "The Constitution was changed 19 times, the base pillars were changed. We need to make a new one. In terms of the executive presidency, the national security should be clearly given to the President. Parliament should have the authority over fiscal matters. The Electoral system needs to be changed. Provision should be made for more right to information.

Access to information should be strengthened and independent commissions should be made more independent. We will create an environment where the independence of the commissions are protected instead of the independence of the individuals serving in them."

He assured the SLPP could make a prosperous country and to achieve this, the President should be given a government that can execute plans properly.

He also said the SLPP is not limited to one ethnicity or religion and that the party was opened for all communities. "We extend a hand to all communities and request them to accept it without swatting it away. We are only against extremism and not communities," he said.
The party, within a short span of time, will record its third election victory without a doubt
A new Constitution has to be made, one without conflict between the Executive and the legislature