---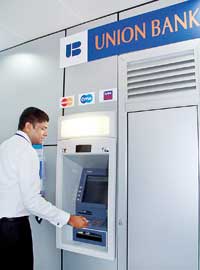 Union Bank of Colombo PLC recently opened five new ATMs, as part of its effort to expand its network and support the growth of its alternative channels. The new ATMs are located in Armour Street – Colombo 14, Kalubowila, Delkanda, Pattiya Junction - Kelaniya and Kerawalapitiya Junction - Wattala for greater customer convenience.
The new ATM's provide easy access for Union Bank customers to carry out their day-to-day banking transactions in the convenience of their neighbourhood. The Union Bank ATM card can also be used in over 2000 ATMs across the country via Lanka Pay, Cirrus and Maestro networks.
The expansion of its branch and alternative channels is part of its ongoing initiatives to strengthen its retail sector and positioning UBC as a fully-fledged commercial bank focusing on the Retail, SME and Corporate sectors.