---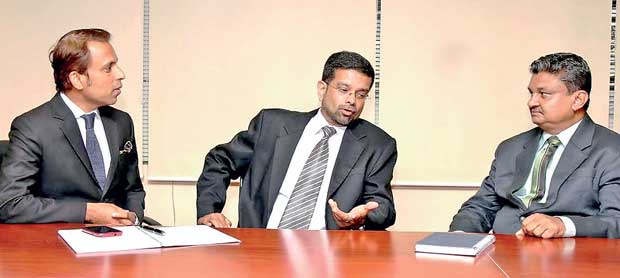 (L-R) Sandalal Edirisinghe - Head of IT, People's Bank, Sunimal Weerasooriya – General Manager/CEO, LankaClear and Krishantha Gunarathna, Chief Manager – IT, People's Bank


People's Bank introduced a new revolutionary ATM technology which will support the banks ambitious plan of owning the largest and best serving ATM network in the country.

The bank partnered with HP technology to increase the speed of transactions and provide a reliable & robust ATM network. This initiative is part of the bank's commitment to serve not only its own customers, but customers of the other banks who use People's Bank ATM's connected via the LankaPay network of 2650 ATM's. People's Bank currently owns 500 ATMs across Sri Lanka, giving the bank the widest reach via unique locations across the country.

Commenting on the effect of this initiative, Sandalal Edirisinghe - Head of IT, People's Bank stated, "We have used the latest technology to customise our ATM network with the vision of transforming it into a highly secure, scalable & efficient customer servicing point. We now process the infrastructure in place to serve our customers' banking needs and strengthen our position as the undisputed market leader in the financial & banking services arena. We are proud to have achieved this milestone on our journey becoming a fully digitalised bank, once again proving to lead the way in the industry."

Sunimal Weerasooriya – General Manager/CEO, LankaClear commenting on this initiative stated, "This technology upgrade would further strengthen People's Bank's position as the largest acquirer in the LankaPay ATM Network and would no doubt help them achieve the goal of having the largest, most reliable and best serviced ATM network which will add value to all ATM users in the country. Our partnership with People's Bank has strengthened the single largest common ATM network in the country, which is LankaPay, bringing convenience and efficiency to the general public."

Also commenting on this new approach, Krishantha Gunarathna, Chief Manager – IT, People's Bank said, "Through this investment, People's bank is not only providing it's customers with the most reliable ATM network, but also extending these benefits to the customers of other banks who are connected to the broadest ATM network linked through LankaPay, to meet their banking needs with greater convenience. Developed by HP, this technology enables us to double the serving capacity of daily transactions and offer all our ATM users, a seamless banking experience."

Hemasiri Fernando - Chairman, People's Bank stated, "It is essential that we invest in superior technology that is highly stable & secure as we embark on our journey to sustain the largest ATM Network in the country, in collaboration with our valued partner, LankaPay."

Commenting on the new technology N. Vasantha Kumar - CEO/General Manager, People's Bank stated, "Our widely spread customer base which is further broadened with our LankaPay partnership, will now have access to ATM services that ensure transactions are hassle-free and efficient. This is essentially what our strategic focus is over the next few years to satisfy all modern banking needs of our valuable customers and become the leader in local digital banking arena".