---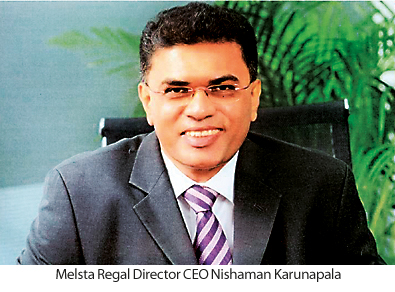 Using its unique positioning as a finance organisation, offering both banking and other finance services, Melsta Regal Finance has proved its success in comprehensive and lasting solutions to its customers' working capital cycle.
Melsta's customers, mainly in the import-export trade, are offered a seamless service from opening up of LCs to import loans, logistics, insurance warehousing, inventory management, debt factoring, etc., in 360 degree solutions.

"While providing the flexibility of a non-bank finance institution, we offer our customers the reliability of a bank offering our customers a comprehensive and unique facility," Director/CEO Nishaman Karunapala said.

"A unique feature of the company is its corporate philosophy which seeks to help people achieve their aspirations and achieve happiness through financial convenience. This philosophy forms the core of the company and powers the Melsta Regal team to focus on creating products and solutions that effectively cater to customer needs and financial convenience," he added.

The company has already reached a Rs.5 billion asset portfolio and is backed by one of the most trusted organisations in Sri Lanka. Karunapala said the strength of the company and its commitment to its customers is what has made Melsta Regal one of the fastest growing financial companies.

There are over 18 customized products and services such as finance leasing, trade finance, operating lease facilities, debt factoring and loans targeted at providing customers the maximum financial convenience. The company also has several demographically differentiated savings products to best suit customers.

Melsta Regal's prudent approach to finance and the group backing has already earned it an A+ Fitch Rating (lka). The company, which always seeks to reinvent the boundaries of customer-oriented financial services, will soon launch several innovative products that will provide its customers with access to reliable, efficient and unique financial services.