---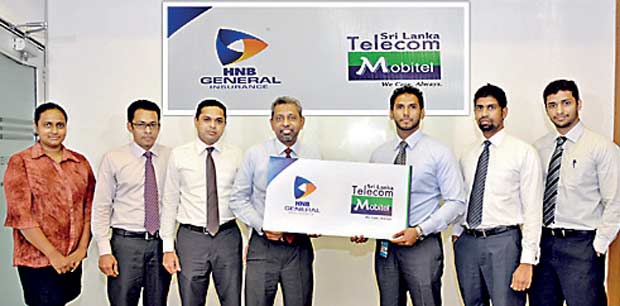 HNB General Insurance and Mobitel Sri Lanka senior management exchanging the MoU



HNB General Insurance (HNBGI) signed a Memorandum of Understanding (MoU) with Mobitel that would facilitate Mobitel customers to subscribe for the 'Ran Medura' household insurance policy of HNBGI upon a monthly subscription.

Mobitel customers can now activate the Ran Medura policy by SMS via typing REG & SMS to 456. Mobitel then will revert the SMS by registering you to the Ran Medura insurance policy for Rs.1 million within a few minutes. HNBGI provides the best rates to its customers by acquiring a small sum of Rs.100 per month including all taxes, for the cover of Rs.1,000,000.

This covers perils including fire and lightning, explosions, impact damage, aircraft damage, cyclones, storms and tempest, floods, BOT, earthquakes, natural perils, electrical extra and other additional extensions including accidental death cover for insured up to Rs.100,000. Customers can now visit http://www.mobitel.lk/minsurance for more details.

HNBGI, incorporated in 2015, is a fully-owned subsidiary of HNB Assurance PLC, specializing in a variety of motor and non-motor insurance solutions in Sri Lanka. HNBGI is affirmed with a rating of A (lka) by Fitch Rating Lanka for 'National insurer financial strength rating' and 'National long-term rating'. As a new addition to the HNB group, HNBGI offers numerous insurance products for businesses as well as Takaful Insurance, which gives options for your unique needs. HNBGI helps you to take on tomorrow with trust and convenience by providing islandwide coverage throughout Sri Lanka in 51 branches.