---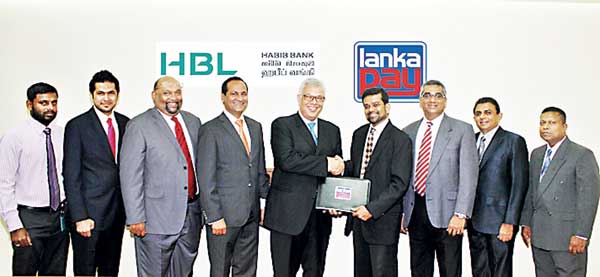 In a bid to position itself as the customers' preferred choice among the foreign banks in Sri Lanka, HBL – a South Asian origin global multi-national financial institution has recently connected with LankaPay – Sri Lanka's largest common ATM network, operated by LankaClear (Pvt.) Ltd.

With the LankaPay network spanning over 2,500 ATMs across Sri Lanka, connectivity with LankaPay will bring greater convenience to all HBL customers holding an HBL VISA Debit Card. LankaPay has already connected ATM networks of 11-member banks namely, Bank of Ceylon, Cargills Bank, Commercial Bank, HNB, NDB, NTB, People's Bank, Seylan Bank, Standard Chartered Bank, Union Bank and HBL that allows customers of one bank to transact using an ATM of another member bank.

HBL plans to leverage its relationship with LankaPay and enable its customers to make credit card payments to any other LankaPay member bank as well as to send or receive fund transfers from customers of any other member bank on a real-time basis, through its own ATMs and ATMs of any other LankaPay member bank. This facility will be introduced very soon. The implementation of the LankaPay network is a national initiative which supports the vision of a fully integrated banking and financial services industry, allowing greater reach, service offering and convenience to customers via a common payment platform. The facility also offers significant savings in foreign exchange to the country by virtue of every LankaPay transaction being channelled through a domestic network. While sharing his views at the signing ceremony, HBL Regional General Manager for Sri Lanka and Maldives Arif Mahmood Ali added, "Connecting with LankaPay network will add great value to our existing as well as future-planned products and services. HBL intends to be the preferred choice of customers among foreign banks in Sri Lanka.

Among the 25 global locations that HBL is present in, Sri Lanka is one of the key growth markets for the bank. HBL has positioned itself as the best value and service provider for its customers through corporate, SME, retail/consumer and Islamic banking products. The bank is opening a branch in Galle this month besides expanding its branch presence in Colombo as well, bringing our network across the nation to six branches. We will also be launching state-of-the-art technology products to further leverage benefits of these products for our customers."

LankaClear General Manager and CEO Sunimal Weerasooriya added, "We are delighted to have HBL connected on the LankaPay network.