---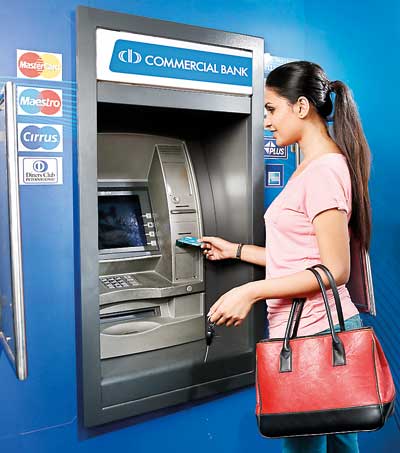 If withdrawals from the ATMs of Commercial Bank in the 'Avurudu' season are anything to go by, Sri Lankans celebrated their New Year on a grand scale in 2015, establishing new records for cash dispensed from the largest automated teller network owned by a single bank in the country.
The previous record of Rs 2.05 billionfor cash withdrawals in a single day set on 11th April 2014, was broken on Friday, 10th April 2015, when users of the Commercial Bank's 610-terminal ATM network withdrew Rs 2.49 billion, an increase of Rs 441 million.
In a record breaking 12-day run, the Bank's ATM network dispensed Rs 17.2 billion between the 1st and 12th of April 2015, of which Rs 11.8 billion was dispensed over the seven days from 6th to 12th April, the Bank said. The number of transactions processed in the first 12 days of the month exceeded 2 million of which 1.3 million was during the peak week.
Commercial Bank's two-day record for cash dispensed via its ATM network was also broken this year, with Rs 4.55 billion on the 10th and 11th of April 2015, beating last year's two-day figure of Rs 4 billion. The average ticket size of a withdrawal on 10th April 2015was Rs 11,642, also higher than a year previously.
The Bank said that these statistics demonstrate the important role the Commercial Bank ATM network plays in the lives of millions of people in Sri Lanka, and reaffirms the value of the technology as well as the capacity, robustness and reliability of the Bank's ATM network. These aspects are particularly important during peak shopping seasons such as the Sinhala and Tamil New Year and Christmas.
The Commercial Bank ATM network is the largest automated cash dispensing facility owned by a single bank in Sri Lanka.Holders of Commercial Bank's standard ATM cum Shopping Debit Cards can withdraw up to Rs 40,000 from the Bank's ATMs per withdrawal. The Bank also offers customers the option of setting their own ATM withdrawal limits up to a maximum of Rs 100,000 a day, and a point-of-sale limit of up to Rs 500,000.