---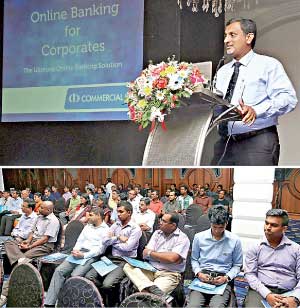 More than 5000 customers enrolled for Commercial Bank's Mobile and Online Banking service at a promotional event focused on the Bank's Biyagama branch and the Biyagama Export Processing Zone recently.
In an event for corporate sector entities at the Biyagama EPZ, the Bank also conducted an awareness program on its latest Online Banking – Corporate platform at PT Gardens Hotel in Biyagama.
"Staff of Commercial Bank visited factories to communicate the benefits of both Online and Mobile Banking services. Customers who enrolled for these services were provided with hands on experience. The convenience offered by our Mobile and Online Banking services is extremely attractive. All it takes is a simple demonstration to convince customers to enrol for these services," a Spokesperson for the Bank said.
The corporate version of Commercial Bank's Online Banking provides the latest security enhancements for the benefit of corporate customers, such as two layer login; secure image upload where a user can upload a favorite image in to the Online Banking portal so that it would be displayed when signing on, facilitating verification of the site prior to entering a password; and a virtual key board that gives the user the option to use an on screen key board to avoid stealing of passwords.
Viewing images of deposited and presented cheques is also possible for users of this facility. This is the first time a Bank in Sri Lanka has enabled its customers to view images of their deposited and clearing cheques through an online banking platform. Registering of regular payment beneficiaries and executing payments to them 365 days of the year is also now possible. Submission of Letter of Credit applications with supporting document uploading too is possible. The Bank has also enabled a corporate administrator facility for companies to manage their internal user authorities as and when required, conveniently without having to contact the bank. The multilevel level authorization module introduced for financial transactions is extremely convenient for corporate clients using this latest Online Banking facility.
The personal version of Commercial Bank's Online Banking service already enables customers to apply for Fixed Deposits, Personal Loans and Housing Loans, check balances of their current, savings, investment, loan, and credit card accounts, and to transfer funds between own accounts and to registered third parties who have Commercial Bank accounts, on a real-time basis around the clock.
The Online Banking service also supports bill payments to more than 36 entities in nine categories such as Telephone, Electricity, Water, Credit Cards, Insurance, Pay TV, Schools and Rates.
Based on Microsoft.net a leading technology framework, Commercial Bank's Online Banking service offers exceptionally user-friendly menus, and benchmark security and encryption features.