---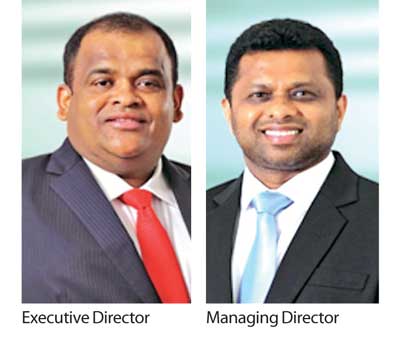 Vallibel Finance PLC, Dhammika Perera-controlled licensed finance company, made a net profit of Rs.192.9 million or 18.57 a share for the quarter ended September 30, 2016 (2Q17) recording a 69 percent growth over the same period last year despite rising interest rates posing challenges for growth for the firm, the interim results showed.

Vallibel Finance's net interest income grew by 18.5 percent year-on-year (YoY) to Rs.484.7 million for the quarter amid faster rise in interest expenses over the interest income providing indications that the rising interest rates have weighed on the company's revenues and interest margins.
The interest income for the period rose by 38.3 percent YoY to Rs.1.1 billion, while the interest expenses rose by a faster 60.2 percent YoY to 594.8 million.

Meanwhile, the company has given loans and leases of Rs.3.2 billion during the six months to September 30, 2016, recording an increase of 17.2 percent from the beginning of the financial year.
Now the company has a total loans and leases portfolio of Rs.21.7 billion. The bulk of the leasing portfolio of the company consists of vehicles leasing – mostly two-wheelers and three-wheelers.
Now that the lower loan-to-value ratios are expected to come into play from next year onwards, the market is expected to become further toughened for the finance companies in growing their asset books.
The higher interest rates and lower disposable incomes will also weaken the demand for new loans and leases while the pressure could also fall in to the existing loan book in terms of higher non-performing loans.

According to a statement by the company, the gross non-performing loan ratio has clocked in at 3.49 percent.
Vallibel Finance has an asset base of Rs.25.6 billion after recording an increase of 12.6 percent increase during the six months.
The customer deposits grew by 12.8 percent or Rs.1.9 billion during the period to a total deposit base of Rs.16.7 billion.
However, the borrowings had risen by almost 37 percent to Rs.3.1 billion as the deposits were insufficient to fund the growth in loans and leases.

Despite the mounting pressure on the top line and the margins, the company recorded a return on asset of 3.01 percent, increasing from 2.40 percent from a year ago while the return on equity rose to 35.81 percent from 27.94 percent a year ago.

Meanwhile, for the six months ended September 30, 2016, the company posted a net profit of Rs.323.5 million or Rs.15.57 a share, an increase of 53.9 percent from a year ago.
The net interest income rose by 19.2 percent YoY to Rs.936.4 million.
As of September 30, 2016, billionaire businessman Dhammika Perera along with his investment company held a 76.141 percent stake in Vallibel Finance.