---
AFP: The US Federal Reserve kept its benchmark interest rate unchanged this week and announced the gradual end to a crisis-era stimulus programme in a sign the economy is on sound footing.
The Fed statement following its two-day policy meeting noted that the devastation caused by Hurricanes Harvey, Irma and Maria are "inflicting severe hardship" on communities.

However, the central bank said the economic impact of the storm is likely to be felt only in the near term.

It cited past experience which has shown that "the storms are unlikely to materially alter the course of the national economy over the medium term."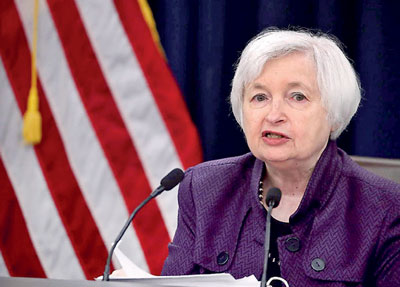 Higher prices for gasoline and some other items "in the aftermath of the hurricanes will likely boost inflation temporarily".

However, 12-month inflation is still expected to remain below the Fed's two percent goal in the near term, stabilizing at the target rate only in the medium term.

The Fed gave few hints on the likelihood of a third rate increase this year, as the statement was little changed from the prior versions, so analysts will have to watch for Fed Chair Janet Yellen's post-meeting press conference for further indications.

The committee did say that despite the hurricane impact, the Fed "continues to expect that, with gradual adjustments in the stance of monetary policy, economic activity will expand at a moderate pace, and the labor market will strengthen somewhat further."

But that language too was nearly identical to the prior statements.

Despite nearly seven years of uninterrupted job creation and a very low unemployment rate of 4.3 percent, inflationary pressures and wage gains have been tepid at best, something that has baffled economists given the strong labor market.

But with inflation finally showing signs of life in August, more analysts now see an increased chance of a rate increase in December.

The central bank also confirmed that it will end an unprecedented stimulus programme launched at the height of the financial crisis, when the Fed had cut rates to zero and had no ammunition left to help support the economy.

The plan starting next month will gradually reduce the size of the Fed's US $ 4.5 trillion in investment holdings, which were built up during the financial crisis.