---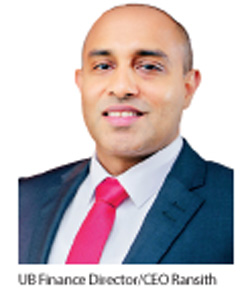 Delivering on its promise to offer a better deal to customers, UB Finance announced the launch of the 'Built-it' fixed deposit account in October 2017.

In an interview with UB Finance Director/CEO Ransith Karunaratne, he speaks of the unique features of the product and its benefits.

'Build-it' is a revolving one month fixed deposit that can be opened with a minimum deposit of Rs.10,000. It is a unique value proposition for salaried individuals and average savers who wish to accumulate a sizable cash build up for the purchase of an asset or a life event based on their monthly income, with maximized returns.

A salaried individual or an average saver does not have the ability to save a large amount at once. 'Build-it' affords the average individual an opportunity to set aside a fixed amount each month, building towards a set investment target enabling them to aim at a life event such as an overseas holiday, education, wedding expenses or the purchase of an asset like a phone, a car or even a house, which is what most people naturally desire.

Once the 'Build-it' fixed deposit is opened, customers can build on their investment monthly through a standing order instruction to grow their investment consistently. These customers are entitled to a higher interest rate in comparison to normal savings account. They are also entitled to compounding interest on their 'Build-it' deposit. The customer can either access their money at the end of the one month period or allow it to roll over for another term. So whether one is saving towards a short term goal of a phone, an overseas holiday or to purchase household goods, a midterm goal such as a wedding or a masters degree or a long term goal of a car or house or even retirement, 'Build-it' from UB Finance is a hassle free financial solution for one to achieve his/her dreams.

A 'Build-it' account can be opened by any individual over the age of 18, who is a Sri Lankan national holding a valid National Identity Card. The individual should preferably be earning a steady monthly income in order to commit towards a continuous savings pattern.

Individuals can apply for a 'Build-it' fixed deposit from any of the company's branches located across the Country. UB Finance currently operates in Colombo, Ambalangoda, Galle, Gampaha, Kadawatha, Kandy, Kalmunai, Kurunegala, Matara, Mawanella, Negombo, Nuwara Eliya, Panadura, Polonnaruwa, Ratnapura and Tissamaharama. The company's experienced and knowledgeable team ensures expedited processing, personalized service and utmost transparency on every occasion.

As a member of the dynamic Union Bank Group, UB Finance has a reputation for strength and stability within the financial services arena. The company also leverages on the expertise of its parent for guidance in operations. UB Finance has also built its reputation on strong connections with local communities and stakeholders through a well distributed network with a presence in 17 location points across Sri Lanka.