---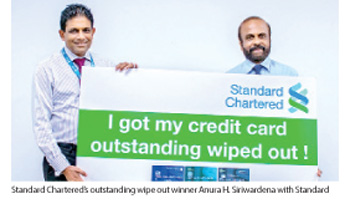 Anura H. Siriwardena became the first winner of Standard Chartered's credit card outstanding wipe out.

Siriwardena, who had almost half a million rupees 'wiped out' expressed his appreciation of the bank's unique initiative. A Standard Chartered credit cardholder for more than a decade, Siriwardena said that he has used the card both locally and internationally and found the card very useful. He said: "You have done something you have promised." The credit card balance wipe out campaign will select a winner each month until 31 December 2017.

Standard Chartered Sri Lanka Retail Banking Head Bingumal Thewarathanthri said: "It was a privilege to announce Anura Siriwardena as the first winner. Standard Chartered looks forward to paying off the outstanding balance on the credit card of yet another lucky winner, this time for the month of October 2017.

All Standard Chartered credit cardholders are eligible to participate and have the 'outstanding' on their credit card wiped out up to a maximum of a million rupees when they spend a minimum of Rs.25,000 a month on retail purchases with the card."

Standard Chartered's credit card outstanding wipe out campaign will run until 31 December 2017, including the Christmas and New Year season. Three more lucky winners out there will have his or her balance wiped out or reduced by a million rupees. Terms and conditions apply and these are available on the bank's website. The winner will be selected by the bank in accordance with its internal processes and the decision of the bank in this regard will be final. The winner in a particular month will be informed by the 20th of the following month and the reimbursement will be reflected in the card account at end of the notification month.