---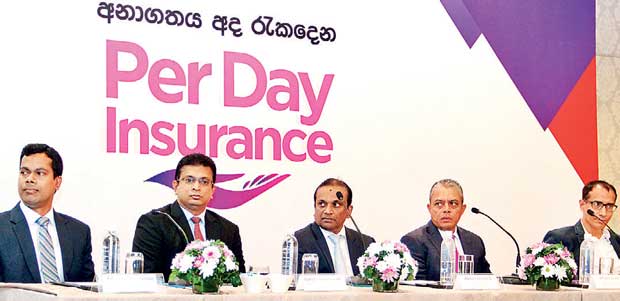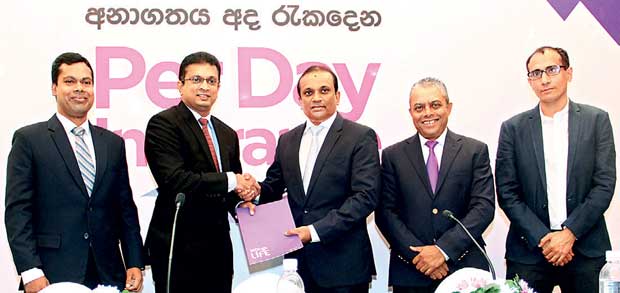 By Harshana Sellahewa
Softlogic Life recently collaborated with Dialog Axiata PLC to launch an all new life insurance scheme under the name 'Per Day Insurance', which is available to all prepaid and postpaid Dialog customers.
Softlogic marked its presence in the insurance business in 2012. Softlogic Life Insurance PLC has evolved into a leading insurance solutions provider at the forefront of the industry for over 17 years since inception. Dialog Axiata PLC, an ISO 9001 certified company, is a subsidiary of Axiata Group Berhad. In April 2013, Dialog consolidated its leadership position in mobile telephony in Sri Lanka by securing the distinction of becoming the first service provider in South Asia to launch mobile 4G FD-LTE services.

Speaking at the launch, Softlogic Life Managing Director Iftikar Ahamed said: "Today is a very unique day. Right now, right here you can take out your mobile phone, your Dialog connection and dial #107*1# and you can buy insurance right now. Now this is something that some years ago would've been thought impossible. But you can do this right now, you can put your nominee, and this transaction can be completed within a matter of minutes without having to leave the comfort of your home or office 24x7 during any time of the day."

"We are very proud to partner Dialog Axiata to introduce Per Day Life Insurance that ensures a simple life protection cover that is available to each and every Dialog customer, and one that can be purchased with ease," added Ahamed.

Softlogic Life ensures reliability and efficiency for Dialog customers in terms of claim settlements, considering its globally award-winning reputation with claim settlements over the years. Enhancing the existing Per Day Insurance service portfolio of hospitalization and accident covers, life insurance will enable all Dialog mobile customers to enjoy the benefits of a comprehensive life insurance package from Softlogic for as low as Rs.1 per day. Life Insurance cover extends from Rs.100,000 to Rs.1,000,000 and the daily premiums graduate from Rs.1 to Rs.10 per day.

Dialog Axiata PLC Group Business Development General Manager Chinthana Jayasekara.
"The mobile technology continues to enable the reach for the products and services from across multiple verticals to reach a vast majority of the population. Per Day Insurance is a primary micro-insurance product which segments an insurance premium into daily, for the benefit of millions of Sri Lankans. We are constantly looking to deliver products and services that complement innovation. Per Day Insurance is one such product in which we use the innovation to enable the financial inclusion."
Softlogic's vision is to be the most preferred and trusted product and service provider, delivering high quality solutions to corporates and retail customers so as to set new industry standards and enhance shareholder value, while Dialog's vision is to be the undisputed leader in the provision of multi-sensory connectivity resulting always, in the empowerment and enrichment of Sri Lankan lives and enterprises.