---
Siyapatha Finance PLC has reported a profit before tax (PBT) of Rs. 559.15 million for the year ended 31 December 2015.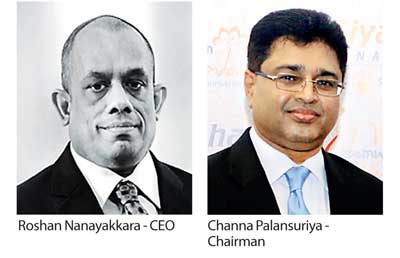 Profit after tax (PAT) stood at Rs. 384.5 million, reflecting a Year on Year (YoY) growth of 48 percent.
This impressive growth was mainly attributed to the increase in Interest Earning Assets and credit quality that was reflected in a very low Non Performing Advances Ratio (NPA ratio). The NPA ratios of 3 months and 6 month levels stood at 2.49 percent and 1.33 percent respectively indicating high credit quality with a very low delinquency rate.

Net Interest Income of the Company grew to LKR 1,149.22 Million which reflected a growth of 9 percent when compared with the last financial year. Interest income of the Company increased to Rs. 1.97 Billion (reflecting a growth of 7 percent) during the period under review while interest expense recorded an increase of 6 percent caused in the main by re-pricing of borrowings. Total operating income grew by 15 percent YoY which was due to an increase in fee and commission income.

Gross Loan Portfolio of the Company grew by Rs. 3.94 billion showing a growth of 40.07 percent from the end of previous financial year, with Finance Leases being the main contributor. Prudent steps taken in providing for provision for impairment ensured that impaired loan percentage was 1.78 percent of gross loans outstanding. The Company recently commenced deposit mobilization in March 2015 and currently has a deposit base of Rs. 2.00 billion as at end February 2016. Total assets of the Company stood at Ra 14.64 billion showing a growth of 40.52 percent over the financial year end 2014.

The Capital Adequacy Ratio (CAR) - Tier 1 of the company stood at 12.20 percent while total Capital Adequacy for the period under the review was 18.26 percent. The said ratios have been maintained well above the mandatory minimum ratios prescribed by the regulator.

The Company has a National Long Term Rating A-(lka); outlook stable from Fitch Ratings Lanka Limited.

Speaking on the company's recent growth trajectory, Channa Palansuriya, Chairman of Siyapatha Finance commented as follows "In the recent past the Company has grown exponentially at a pace much faster than the industry average and has operated profitably. In terms of asset size it currently is at a pitch at or around a Medium sized Finance Company but the plans ahead would make us a larger institution on par with most of the Top five Non Banking Financial Institutes. The paradigm shift would result in a hybrid institute that offers a mix of traditional financial products associated with Finance companies with more banking related product offerings".

In the context of its product innovation and strategic focus, Roshan Nanayakkara, Chief Executive Officer made the following comments. "The company has introduced many innovative products targeting many market segments and has always set a strategy that is aggressive and innovative without in any way tampering on our way of doing business which has at all times being ethical. We have always valued sustainability as the core of our business strategy.

As a result of further extending the corporate focus on product innovation and ultimate customer value enhancement, Siyapatha Finance has introduced "Siyapatha Loyalty Card" for all Leasing customers by enabling the customer to enjoy unbelievable discounts and other benefits from reputed vehicle related products and service supplier networks across the country.

The Gold Finance Division has launched its competitive differentiator as "Siyapatha Gold Dream" by empowering the customer to purchase the desired gold jewellary either for future usage or as an investment instrument on a simple installment payment structure.

Siyapatha Finance PLC is a licensed Finance company that is a fully owned subsidiary of Sampath Bank PLC and has been in operation for the last 10 years. The product breath of the company includes Finance Leasing, Hire Purchase advances, Business and Personal Loans, Factoring, and Gold Loans.