---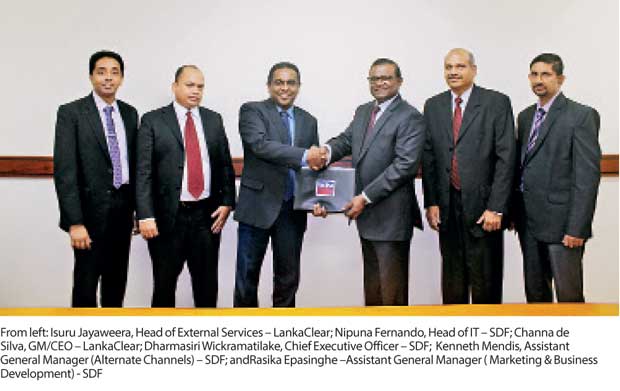 Sarvodaya Development Finance joined LankaPay Common ATM Network via LankaPay hosted solution recently, which consists of LankaPay Shared ATM Switch (SAS) and LankaPay Card Management System (CMS) with state-of-the-art technology.

Sarvodaya Development Finance is the second member to avail themselves of LankaPay hosted solution, the first institution being regional development bank.

Primarily targeted at non-banking financial institutions, LankaPay hosted solution allows its members to enjoy the benefit of a card management system with just a fraction of the cost and least operational hassle of having to invest in and maintain their own card management system while gaining access to over 4,000 ATMs connected to LankaPay network island wide.

With this partnership with LankaPay, Sarvodaya Development Finance customers can now enjoy access to their accounts literally via any ATM in the country.

Commenting on this partnership with LankaClear (Pvt) Ltd, Dharmasiri Wickramatilake, CEO of Sarvodaya Development Finance stated "We are pleased to be connected to LankaPay Common ATM Network and LankaPay Card Management System (CMS). Digitalization is dominating the financial industry and with the partnership with LankaClear, we will be able to pass on the benefit of new technology to our Customers island wide, where they can experience more convenient & hassle free service. This milestone agreement will play a key role in supporting under banked customers in remote areas of the country and contribute towards country's vision of improving financial inclusion through means of technology."

Channa de Silva, General Manager/CEO of LankaClear (Pvt) Ltd, the operator of LankaPay Network, warmly welcoming Sarvodaya Finance aboard said, "We are indeed delighted to have Sarvodaya Development Finance joining the LankaPay network. We firmly believe in saving the valuable time of demanding individuals, thus,one of our primary objectives is to drive financial inclusivity in the country by empowering every individual with faster, convenient,secure and affordable payment services, thereby allowing them to spend their time on things that really matter in their lives.

'We are committed to assist all banks and financial institutions in joining LankaPay network in all possible domains, thus permeating the benefits of electronic payments to every segment of our society toenrich their lives. In this context, we consider this partnership with Sarvodaya Development Finance as another giant step towardsreaching this goal."

LankaPay Common ATM network, operated by LankaClear under the guidance of the Central Bank of Sri Lanka, now have over 99.5 percent coverage of all ATMs in the country, routing nearly 4.5 million transactions every month.

The usage of common payment infrastructure has paved the way for a level playing field for all banks and non-bank financial institutions bringing greater efficiency to the country's financial sector and unprecedented convenience to over 17 million banking customers in the country. Currently over 15 percent of all ATM transactions in the country are facilitated by LankaPay Common ATM Network.

LankaPay CAS is the first phase of the Common Card and Payment Switch (CCAPS) which is designed to be the backbone infrastructure for all electronic transactions in the country, which will facilitate seamless connectivity coupled with online real time payments.